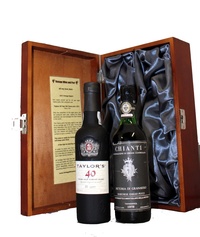 1973, 40th Anniversary Vintage Wine and Port Double Gift Box ,1972
Two half bottles (37.5cl) of Taylors 40 year Tawny Port and a 1972 Chianti in a double presentation box
Description and Reviews:
A wonderful 40th Gift.

Taylors 40 Year Old Tawny Port (37.5cl)
Only tiny quantities of this aged tawny port are produced each year, making the wines extremely rare and amongst the most revered in the world. This Tawny port has been aged in oak casks for an average age of 40 years. During their long maturation they become tawny in colour and concentrated in their aromas. This port has very intense and elegant flavours which combine to give a smooth, fine finish.

1972 Chianti
The colour has a dark core with orange around the rim of the glass. The nose has plummy undertones and lots of red fruit and some coffee and cocoa. Well balanced and medium on the palate with fruits, notably blackcurrant and mild tannins. A pleasant wine that drinks well.
Condition Report:
Drink Type:
Price:
Stock:

excellent condition - please note taht these are rare half bottles.
Wine Gifts , Gifts
£99.00
Out of Stock