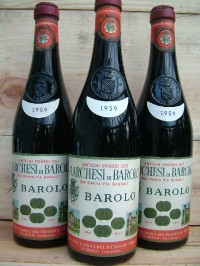 1959 Marchesi di Barolo ,1959
Barolo
Description and Reviews:
This wine, from the very good 1959 vintage, has a nose of roses and crushed berries. A rich palate with fresh cherries and good acidity. The finish even had a little tannin in it. Will continue to last for years to come.

These have recently been released from the cellar of the Marchesi estate where they have been stored in ideal conditons.
Condition Report:
Drink Type:
Price:
Stock:

good label slightly damaged capsule
Red Wine, Italian
£129.95
Out of Stock