1977 Port- The Symington Family Collection Triple Gift Set, 1977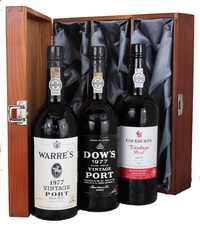 3x 1977 Dow's, Warre's and Cockburn's Vintage Ports
Description and Reviews:
An outstanding ultra premium three bottle vintage Port Collection from the exceptional 1977 vintage. Offering three bottles of the best ports produced by the Symington Family Estates; 1977 Gould Campbell, Dow's and Cockburn's vintage ports.
An ideal gift for any port lover celebrating a Ruby Anniversary or a 40th birthday in 2017. All three ports come beautifully presented in a triple stained gift box with silk liner as illustrated.

Reviews:

1977 Dow's Vintage Port
Medium cranberry red centre and slight bricking on the edge. Intoxicating floral fragrance that filled the room, during its nine hour decant; accented by anise, plum and raspberry notes and a bit of spirit. Fresh, fleshy grape, dark cherry and fig flavors melded with underpinnings of licorice, chocolate and warming spirit. It's developing into a stunning middle-aged Port with little signs of nearing peak yet. Rich and multi-faceted, smooth and velvety ... even more so the second day it was opened. The acidity was near perfect and the tannins are tame but omnipresent; while the finish was spicy, warm and extremely long. This was an excellent bottle, similar ones will likely drink near peak in fifteen years or so, although quite nice at the moment. Score: 94/100 *Roy Hersh-ForTheLoveOfPort 2011*


1977 Warre's Vintage Port:
Rich and highly concentrated, it has evolved into to open into a superb Port. Fragrant cassis and prunes nose, fleshy texture, loaded with ripe berry flavours, mellow tannins and a lush fruity finish. Powerful, yet impressively balanced. The 1977s have reached the middle stage of what will prove to be a long and distinguished life. Hugely enjoyable now and it will only get better.

"This house makes rather restrained yet rich, flavourful vintage port. Their vintage ports seem slow to develop, and have a unique mineral-scented character that gives them their own complexity and style. The 1977 is quite powerful, very deep and intense, particularly for Warre." Robert Parker, Buying Guide 2nd Ed.

1977 Cockburn's Vintage Port, Bicentenary Limited Edition:
Following the acquisition of Cockburn's in 2006, the Symington family were surprised to find 116 cases of 1977 Vintage Port in a corner of the company's cellars. Cockburn's famously did not 'declare' a 1977 Vintage, although virtually every other Port house did so.
When the Symingtons were preparing for the Cockburn's bicentenary in 2015 it became clear that there could be no better way of celebrating this historic anniversary than by releasing this rare Vintage Port. Finally the covert plans of the Cockburn's winemakers can see the light of day; each bottle of Cockburn's 1977 Vintage Port reflects the independent and sometimes idiosyncratic spirit of this great Port house that never died under the long years of multinational ownership.

very good- All three ports come in a triple gift box as illustrated
Vintage Port, Vintage Port
£345.00 inc UK VAT (where applicable) *