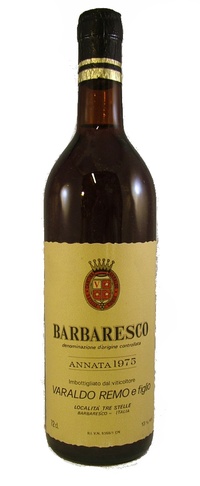 Barbaresco ,1975
Varaldo Remo
Description and Reviews:
Barbaresco is one of the great wines of Italy's north-western Piedmont region.

This aristocratic red has its vineyards situated in the Langhe, on the right-hand side of the Tanaro river and extending from the area north-east of Alba to the communes of Barbaresco, Nieve and Treiso.

The dominant variety grown is Nebbiolo, but Dolcetto and Barbera also play a part. The vines are generally grown on limestone-rich marl soils. similar to the Tortonium soils of the Barolo and La Morra areas in Barolo.

Similar to its more famous sibling Barolo, Barbaresco is made from 100% Nebbiolo and shares its cult status as one of the finest wines in the world. However, there are several differences between the two. Barbaresco has a slightly maritime climate: warmer, drier and milder than its neighbor. This means its grapes tend to ripen earlier than those in Barolo. As a result, the wines are less tannic and more approachable at an earlier age. However there is still plenty of acidity and tannins to make this an age-worthy red. Barbaresco is characterized by its rich, spicy flavors and perfumed sweetness and is considered more elegant and refined than its counterpart, which is a more robust and longer-lived red.

Regulations stipulate that Barbaresco must have a minimum alcohol content of 12.5% and undergo two years of ageing, one of which must be spent in wooden barrels. For the added designation of riserva, the ageing increases to four years, with one of those years in wood.
Condition Report:
Drink Type:
Price:
Stock:

good level and label 13%ABV 72 cl
Red Wine, Italian
£58.95
Out of Stock