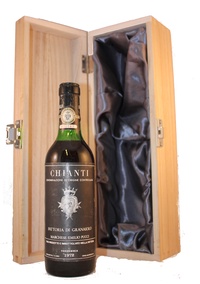 1972 Chianti ,1972
Fattoria Di Granaiolo (Half Bottle - 37.5 cl in Wooden silk-lined gift box) SPECIAL OFFER WAS £69.95 now £44.95)
Description and Reviews:
Includes tasting notes and personal message.

This excellent value, half-bottle of Chianti wine offers is our best selling 1972 wine.

Tasted immediately after opening. The Chianti has light colour of aged mahogany wood, the nose is delicate tangy dark fruit, a bit like an aged St. Emilion. The acidity and tannins are all one could expect of a 40-year-old wine. The fruit and acidity are present at first, there is a subtle hint of cherries and dark fruit which fades after about 30 minutes. Tasted 2012.
Condition Report:
Drink Type:
Price:
Stock:

Good level and some slight damage to Labels
Wine - Red, Italian
£44.95
Out of Stock