Dolcetto d'Alba, 1975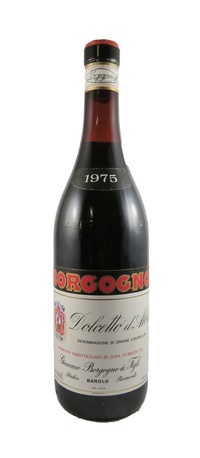 Giacomo Borgogno (SPECIAL OFFER was £69, now £20) CLEARANCE OFFER - sold a a novelty from the 1975 vintage - contents not guaranteed.
Description and Reviews:
A native black grape variety of Northern Italy grown almost exclusively in the provinces of Cuneo and Alessandria in Piedmont. It is relatively easy to cultivate, although it is susceptible to fungal diseases. It ripens before Barbera and Nebbiolo and is often grown in high north-facing sites which would be unsuitable for Nebbiolo. The finest Dolcetto wines come from grapes grown on soils rich with white marls, especially those found on the right bank of the River Tauro. The wines generally are low in tannins and acidity and are usually fruity and fragrant, often with hints of almonds.

good conditions-This is an early drinking wine and is sold only as a curio from the 1975 Italian Vintage- Please note that this wine is on offer and therefore excluded from our guarantee
£20.00 inc UK VAT (where applicable) *
* excludes delivery (free standard UK delivery on orders over £100)