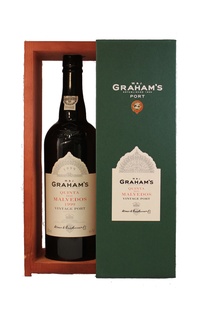 Graham Vintage Port ,1999 ,1999
Malvedos Single Quinta Vintage port - individual wooden box
Description and Reviews:
1999 Graham's Malvedos Single Quinta is a Single Quinta Vintage Malvedos by Graham's beginning to show some of the wonderful characteristics of bottle matured wine. It can be drunk now but will develop further with a few more years of cellaring.

REVIEWS
Malcolm Gluck, The Guardian, 13th December 2003
17.5 Points out of 20
"this is magnificent stuff with a highly bred sense of its class, showing complex hedgerow berries and gripping tannins that mitigate, beautifully, the sweetness in a way that makes the liquid dangerously seductive".

Anthony Rose, The Independent, 20th December 2003
"Seductively perfumed with blackberry and spice, this is a subtle, yet richly concentrated with just enough age for the tannins to have softened to smooth velvet".

Sarah Jane Evans, BBB Good Food, December 2003
The first time I tasted this, I wrote "full of pleasure" and I haven't changed my mind. Dark-fruited and firm, with the hidden thunder of alcohol to warm your toes. Can be cellared for Christmases to come.

Joe Wadsack, S Magazine, The Sunday Express, 15th February 2004
"Every now and then, you just have to hang the expense and buy a proper bottle of Port. Graham's is on the sweet side with a muscular softness that few can match in a good year. This will have come from Graham's finest vineyard. It's already turning into something intriguing, and it's still a third the price of a so-called declared vintage port. Pass the Stilton!""

Condition Report:
Drink Type:
Price:
Stock:

Excellent condition. 750ml bottle 20% vol
Vintage Port, Port
£34.95
16 In Stock