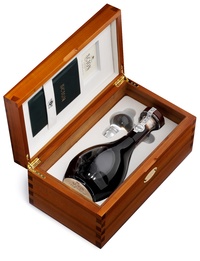 Taylor's Vintage Port ,1855
Scion - Very Old Vintage Port
Description and Reviews:
In 2008 Taylor's wine maker David Guimaraens became aware of the existence of a very old and rare cask-aged port dating from before the arrival of Phylloxera in the Douro Valley. The wine belonged to a distinguished Douro family and was stored in a lodge in the village of Prezegueda in the Corgo Valley. A treasured heirloom, passed down from one generation to the next, it was maintained as a private family reserve, with the exception of one pipe said to have been acquired by Winston Churchill. In 2009 the sole surviving direct descendant of the family died, leaving no children. Her heirs, not all family members, decided to sell the wine
Taylor's acquired samples and, amazingly in view of its age (harvest of 1855), the wine was found to be in faultless condition. Taylor's successfully negotiated the purchase of the wine which was moved in two casks to the firm's lodges in Oporto on 13th January, 2010.
In view of its extraordinary quality, rarity and remarkable historical interest, it was decided by the firm's Managing Director Adrian Bridge that the wine should not be blended but should be offered by Taylor's as a unique collector's item

Packaging: The packaging has been designed to recall the era when the wine was made: The wine is displayed in a sturdy wooden box with brass fittings reminiscent of a 19th century instrument case. The SCION logo is set in an authentic Portuguese font first made available in 1874.
In addition to the wine itself, several other items included in the box are collector's items in their own right. The wine will be presented in a hand-blown limited edition crystal decanter specially produced for SCION. Set into the lid of the box is a booklet telling the story of the wine with original drawings by the illustrator and typographer Sarah Coleman. The Port and Douro Wines Institute (IVDP) has kindly made available some rare guarantee seals from a limited remaining stock.
Each box will be individually numbered.
Condition Report:
Drink Type:
Price:
Stock:

Immaculate. This is currently stored in bond so please allow about one week for delivery
Vintage Port, Port
£1950.00
1 In Stock