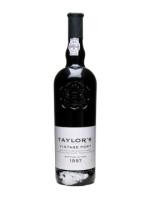 Taylor's Vintage Port ,1997
Vintage Port
Description and Reviews:
96 Points - Robert Parker
97 Points - Wine Journal

Reviews: "Saturated black/purple-colored, with stunning aromatics of blueberries, blackberries, licorice, and iron, this spectacular vintage port is one of the stars of the vintage. Extremely full-bodied, with silky tannin, spectacular concentration and purity, multiple flavor levels, and an evolved, forward personality, this is an exquisite yet precocious 1997 vintage port. Anticipated maturity: 2004-2030." Robert Parke Wine Advocate, 2000

"A deep black inky core with deep ruby rim. The nose dose not have the definition or the ripeness of the -92 yet it is cut from the same cloth. Scents of pure blackberry, blueberry, liquorice, raisin with a touch of dried blood and a sense of being earthier than the previous two declarations. The palate is medium-bodied rather than full-, but has lovely balance and a bewitching sensuality. I love the sense of earthiness to this port and it is adorned with a cohesive, very refined finish. Superb. Tasted November 2007." Neil Martin, Wine Journal 2008.
Condition Report:
Drink Type:
Price:
Stock:

excellent
Vintage Port, Port
£62.95
Out of Stock