1952 Wine and Port Vintage
Italian: Long lasting 1952 wines such as Barolo are still drinking well.

Bordeaux: 1952 was a fine year for Bordeaux Wines with the right bank (St-Emilion and Pomerol) on top form.

Vintage Port: A few shippers produced some reasonable 1952 ports. Tiny production. Not a declared year.
3 products found.
Burmester Port, 1952
Colheita Port in branded wooden case
Offer SAVE 15% | Only £335 | RSP £395
We are delighted to offer a UK exclusive on Burmester Colheita Ports.


Reviews:
"(2015) Lovely dark caramel colour, with some truffle and tea notes, edges of olive and green fruits (fig). The maturity on the palate is obvious, again with fabulous sweetness and brown sugar richness, Muscovado and walnuts, but the hallmark of the fresh orange and lemon acidity plays against that and the coffee and walnut cake sweetness and richness." Tom Cannavan Winepages.com


The 1952 Colheita has a Complex nose with dark berries, cress, coffee Full-bodied and great balance. Smooth palate that reflects the nose. …
more >>>
Price: £335.00
Stock: 4 in Stock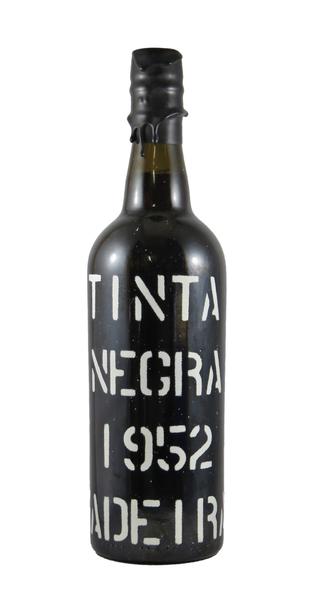 Madeira, 1952
MBV - Tinta Negra - Bottled by Barbeito SPECIAL OFFER was 495.00 now £425
This is a rare and very limited release of the 1952 Madeira from the family cellars. That we were able to acquire. bottled in 2017. The bottles are in perfect condition.

Reviews "There is something ethereal about tasting such a rare vintage. The 1952 Tinta Negra is very dry as one would expect from this style of Madeira. There is a huge amount happening on the complexity front with some bitter nut skin notes with dried flowers and citrus pith. Although quite dry, this does not come across as too severe. An electric wine that is astonishingly refreshing. Massive finish that goes on and on. …
more >>>
Price: £495.00
Stock: 10 in Stock

Messias Port, 1952
Colheita- Single Harvest Tawny Port
The Messias colheita port from the outstanding 1952 vintage has been aged in a barrel until bottling this year.
The extended barrel aging has given this wine a complex fusion of dried fruit and cedar notes. On the palate the wine is smooth and full bodies with plenty nuts and sweet fruit on the palate, fine balance. A tremendous finish which goes on forever. There's no question about the quality on display here.

Bottle Size: 75cl
ABV: 20%
Bottled in 2015
more >>>
Price: £265.00
Stock: 9 in Stock