1980 Warre's Vintage Port, 1980
Vintage Port
Exceptional provenance | Warre's library stock release.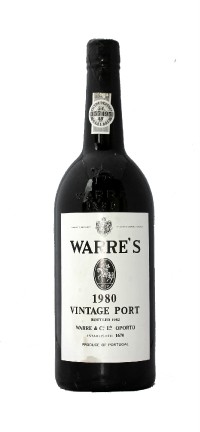 * excludes delivery (free standard UK delivery on orders over £100)
Description
These bottles have been stored in the Warre's cellars in Oporto until recently released. They are in perfect condition.

This 1980 Warre Vintage Port is an outstanding port just reaching full maturity. Reviews: Wine Spectator, October 1988 "Excellent Port from an overlooked vintage". Malcolm Gluck, The Guardian, 23rd December 1995 "Overwhelmingly fruity and flowing. Beautiful, round and smooth. Quite exceptional". WINE, December 2001 93 Points "The best colour thus far with a rich peppery nose and a meaty, complex long finish. Excellent". Michael Broadbent, Vintage Wine, Published 2002 Four Stars (Very Good) "Best wine of the evening…Still very deep; fragrant; extraordinarily dense, figgy flavour and impressive, very dry finish".


Condition
Good level and label
You might also be interested in: