2015 Wine and Port Vintage
Vintage Port: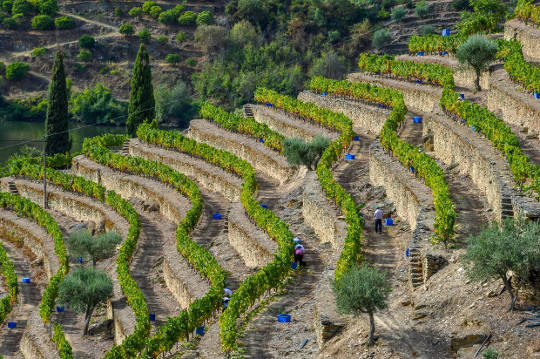 The 2015 Vintage Port Harvest
Abundant rainfall marked the start of the viticultural year, replenishing depleted soil water reserves. This was to prove crucial due to the very dry winter, spring and summer that followed which was the hottest and driest of the last 36 years. It was the hottest June of the last half-century resulting in exceptionally low yields at harvest time. The conditions leading up to the harvest were excellent and a little late rain followed by sunshine just before picking offset some of the heat stress to produce some of the best grapes in memory (particularly Touriga Franca)
To declare or not to declare?
The ports produced in the 2015 vintage are, without doubt, outstanding and many producers such as Niepoort, Noval Ramos Pinto have declared the vintage. With small productions and an eye to what will probably be a spectacular 2016 vintage, Taylor Fladgate and Symington's have not declared all of their range producing instead some amazing value single quintas. These companies never make back-to-back declarations. Symingtons have produces a very small quantity of the ultra-rare Graham's Stone Terraces and declared Cockburn to celebrate the 200th anniversary of the shipper.
Our assessment.
Having tasted all of the 2015 ports below, our port expert, Dr Tony Carter, has scored all of them above 90 points (outstanding) and rated the Stone Terrace, Dows and Vesuvio in the exceptional category (95+ points). This is in line with other critical reviews. In general, the exceptional showing for the Touriga Franca adds amazing floral qualities across the board. This is supported by a good showing for the Touriga Nacional which adds structure and backbone great ageing potential for these wines. We look forward to revisiting them in 40 years time!
2015 is definitely a vintage for port drinkers. Apart from the rare and limited releases, investors should look towards the 2016 vintage. Port drinkers can find amazing value amongst the single quintas (Fonseca, Taylor's, Croft, Dow's) or pick up some excellent quality vintage ports.
45 products found.