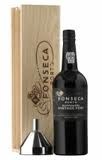 Fonseca 1996 Vintage Port in Presentation box with Decanting Funnel ,1996
Fonseca Guimaraens Vintage Port Special offer Presentation box with FREE decanting funnel
Description and Reviews:
Special Offer FREE presentation box with decanting funnel (see Photo)

This big and vibrant port shows excellent notes of dark and ripe, cherry, plum and damson fruit notes. It is the second wine of the renowned Fonseca House and the wine is from an undeclared but very good vintage, 1996, hence the more moderate price tag Reviews "It is not without reason that Fonseca is described as the Margaux of the Douro; its wines have a femininity and grace that never flatter to deceive. The 1996 Single Quinta is a perfect example; combining fresh aromatics and layers of berry fruit flavours with a firm but unobtrusive tannic structure. Enormously concentrated, and perfectly balanced this wine is archetypical Fonseca." Parker, buyers Guide.
Condition Report:
Drink Type:
Price:
Stock:

Excellent - includes FREE Presentation box with decanting funnel (select sandard packaging at checkout)
Vintage Wine Port Offers, Port
£32.95
Out of Stock