40 Years of Taylor's Port Deluxe Gift Set, 1977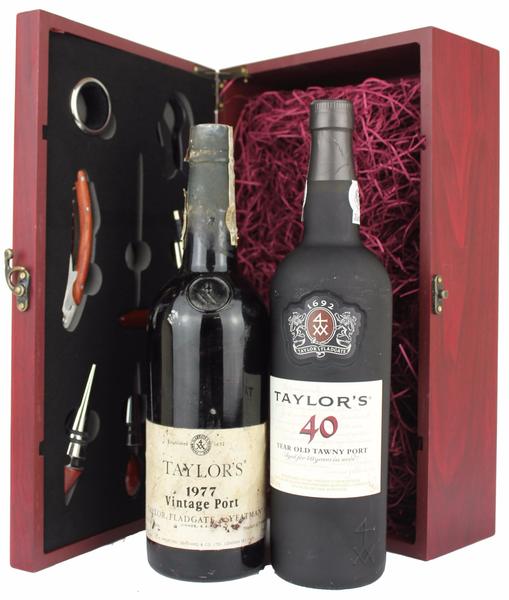 2x75cl- 1977 Taylor's Vintage Port & 40 Year Old Taylor's Tawny Port. SPECIAL OFFER, WAS £275 NOW 255.00
Description and Reviews:
This premium 40th anniversary gift set is comprising of two bottles of quality port from the famous Taylor's Port brand; It features two of the main premium port styles, a barrel aged 40 Year Old Tawny port and a bottle aged 1977 Vintage Port. Both wines come in a double deluxe gift box with wine Accessories. A lovely gift to celebrate 40 years in 2017!

Review:
1977 Taylor's Vintage Port
Robert Parker writes.... "This house must certainly be the Latour of Portugal. Their ports are remarkably backward yet still impressive when young. Of all the vintage ports, those of Taylor need the longest time to mature and even when fully mature seem to have an inner strength and firmness that keep them going for decades. Their tawnys are also among the very best, though somewhat expensive. The 1977 has consistently been at the top of my list of vintage ports in this great vintage, although the Dow, Graham, and Fonseca are equally splendid. It is a mammoth, opaque, statuesque vintage port of remarkable depth and power."
*Parker rating 96/100 (outstanding)*

Taylor's 40 Year Old Tawny Port
Only tiny quantities of this aged tawny port are produced each year, making the wines extremely rare and amongst the most revered in the world.
This beautiful Tawny port has been aged in oak casks for an average age of 40 years. During their long maturation they become tawny in colour and concentrated in their aromas. This port has very intense and elegant flavours which combine to give a smooth, fine finish.




good condition-2x75cl bottles presented in a double Deluxe Gift Box as shown
£255.00 inc UK VAT (where applicable) *