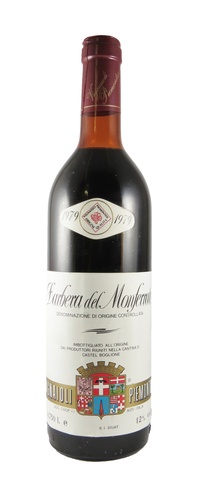 Barbera, 1979
Vignaioli Piemontesi (Special Offer was £39 now £15 - excluded from guarantee)
Description and Reviews:
Barbera is a wine of prestige, rich colors that refer generally to the ruby purple, just what clothes cardinals; the bouquet is ample and composite, with fruity notes of blackberry, cherry, strawberry and red fruit jam and spicy aromas reminiscent of cinnamon, vanilla, green pepper.

good condition. Please note that Barbera is a grape that is designed for early drinking. there is a higher than usual risk associated with this type of older wine and so it is sold as a curiosity from the vintage.
£15.00 inc UK VAT (where applicable) *
* excludes delivery (free standard UK delivery on orders over £100)