Chateau Mouton Rothschild, 1952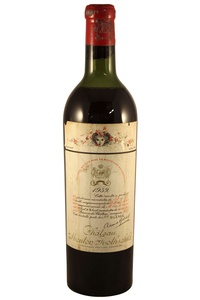 Pauillac 1er Grand Cru Classe high shoulder label bin soiled
Description and Reviews:
** 87 points Robert Parker ***

While attractive, the sweet, spicy, gingery nose lacks ripeness of fruit. In the mouth, this wine exhibits structured, firm, medium-bodied flavors, good depth, but tough tannins and relatively high acidity in the finish. Although there is plenty of character, the wine finishes with a lean, rustic feel.
high shoulder label bin soiled- Slightly clear colour
£895.00 inc UK VAT (where applicable) *