Dolcetto, 1971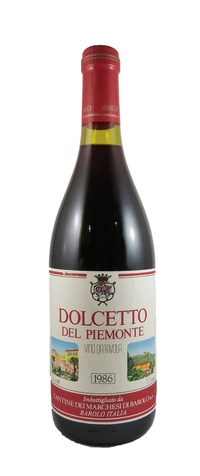 Coppo Riserva (Clearance Offer £20 - excluded from guarantee
Description and Reviews:
A native black grape variety of Northern Italy grown almost exclusively in the provinces of Cuneo and Alessandria in Piedmont. It ripens before Barbera and Nebbiolo and is often grown in high north-facing sites which would be unsuitable for Nebbiolo.
The finest Dolcetto wines come from grapes grown on soils rich with white marls, especially those found on the right bank of the River Tauro. The wines generally are low in tannins and acidity and are usually fruity and fragrant, often with hints of almonds.

good condition This wine is designed for earlier drinking and carries a higher risk than normal so it is sold as a curiosity from the vintage. Because of this we can not guarantee this product.
£20.00 inc UK VAT (where applicable) *