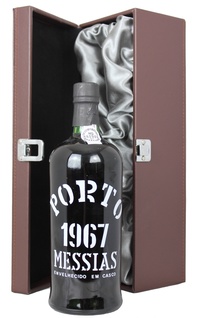 Colheita Port in dark mocha leather effect silk-lined box

Description and Reviews:
*** 95 Points Robert Parker ***

The Messias colheita port from the outstanding 1967 vintage has been aged in a barrel until bottling in 2015.

Reviews:
The 1967 Colheita Port, a blend from old vines coming in with 149 grams per liter of residual sugar, is the latest in the winery's releases of old tawnies. The winery says that the "harvest was perfect with hot days and fresh nights... The wine had a good balance with acidity as a result and then matured for 45 years in Vila Nova de Gaia." This is super. Lively and elegant, it has a wonderful concentration of old-tawny flavours on the finish: heavy molasses mingled with caramel and laced with a hint of treacle. Then, add the acidity that makes that finish long and juicy, while the fruit is nicely lifted. This doesn't seem overly deep, but everything else is exceptional and it seems quite graceful. It will last indefinitely. Remember not to drink these too warm -it is better around 58-62 degrees Fahrenheit.
- Mark Squires on eRobert Parker (October, 2016)


The extended barrel ageing has given this wine a complex fusion of dried fruit and cedar notes. On the palate the wine is smooth and full bodied with plenty of nuts and sweet fruit on the palate, a fine balance. A tremendous finish which goes on forever. There's no question about the quality on display here.
excellent - Bottled in 2016 -
Colheita (Single Harvest) Port, Vintage Port
£149.00 inc UK VAT (where applicable) *