A Trio Of Fonseca Vintage Port, Non Vintage
2015, 2004 & 1985 Fonseca Vintage Ports
In a luxury stained Fonseca gift box
Description
A beautiful gift for a true Fonseca port lover, this three bottle box contains a bottle to drink now, a bottle to keep for another 5 years and a bottle to cellar for another 15 years+ and shows the diversity of the brand with a selection of wines from three historic vineyards that shaped the brand we know today as Fonseca.

2015 Fonseca Guimaraens:
Celebrating 200 years of Fonseca the 2015 is a commemorative bottling. Opaque purple-black at the centre with a very thin, purple edge. A classic Fonseca nose redolent of heady, woodland fruit, powerful but also very fine and complex. The dense blackberry and blackcurrant aromas form the backdrop for a display of fresh, minty, balsamic scents and resiny notes of gumcistus and wild herbs. The thick, tightly-woven tannins provide both firmness and volume to the palate which is built around a core of dense, dark berry fruit. Plummy, raspberry flavours emerge on the long, luscious finish, giving it an attractive crispness and lift.

2004 Fonseca Panascal:
Fonsecas from the Panascal estate are a pure expression of the estate's terroir. Like Guimaraens Vintage Ports, they are made in years producing softer more approachable wines which do not need to be cellared for a long time before being enjoyed. Located on the steep right bank of the Távora River, Panascal is one of the most highly reputed vineyards in the Douro Valley. In the words of a local saying, 'From Roncão and Panascal come the finest wines of Portugal'.

1985 Fonseca classic vintage:
The 1985 Fonseca Vintage Port has a lovely nose of maturing port, finely styled and just screaming quality. The palate carries a svelte texture, with a creamy, flattering character. There is purity, balance, a clean, bright quality and despite this lots of appealing grip. This has great impact, and yet is so welcoming and alluring. Excellent wine, and a great example of the vintage.
You might also be interested in: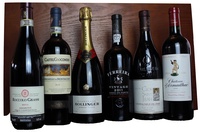 6 Bottle Premium Wedding Gift Set
1st, 5th,10th, 20th, 25th and 30th Wedding Anniversary
A Premium Champagne, Wine and Port Selection beautifully presented in a 6 bottle wooden, silk lined …
$456.06 USD