Kopke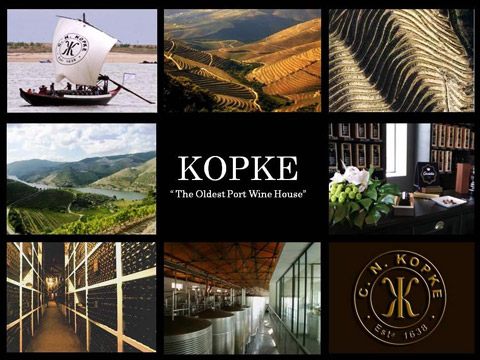 Kopke is the oldest Port house and has an enviable reputation for their historic Colheita ports.

In 1636 German diplomat Nicolau Kopkë travelled with his son, Cristiano, from Hamburg to Portugal, representing the Hanseatic League. Two years later, he founded Nicolau Kopkë & Co., a shipping company which would eventually become universally recognised as the first Port House in the industry's history. In 1781 they bought a farm in the Douro, making the transition from shipper to major producer and gradually making Port Wine their main business focus.

In 1828 C. N. Kopkë, great-great-grandson of Nicolau, sided the company with the Liberal Party during Portugal's civil war. Following the war, he was awarded the title of Baron of Vilar and a decade later his nephew the title Baron of Massarelos. In 1841 the company's name was changed to C. N. Kopke and remains such to this day. Almost a century later, in 1940, the House was awarded official recognition as the oldest in the world. Kopke have an excellent reputation backed by many gold medals, particularly for their Tawny (barrel-aged) Ports. Befitting their status as the oldest Port House, their bottles are easily recognisable by their traditional and hand-stencilled style.
Buy with confidence
All of our wine gifts are available for immediate delivery from our own cellars. Your gift is backed up by our 5-star Trusted shops customer service rating.
Free standard UK delivery for orders over £100
Free tasting notes and personal message (add at the checkout)
Three month replacement guarantee
Choice of Gift Boxes
Winner 2022, 2021 and 2019 IWC UK Fortified Wine Merchant of the Year
Winner Decanter 2022 and 2020 Fortified and Sweet WIne Retailer of the Year
5 Star Trusted Shops Rating
58 products found.