2019 Vintage Port Declaration
Posted 3 June 2021
by Dia Grigoriou
Although 2019 was a good vintage in the Douro, not all shippers declared a classic vintage. Those whose vineyards are situated in favourable aspect sites opted for a classic declaration whilst others focused their potential releases on ports from terroir driven plots. With no general vintage declaration, several major producers have announced single quinta vintage releases instead.



2019 Vintage Report
2019 begun with a dry Winter that continued into Spring. Even in late winter, early buds made their appearance on the vines, indicating an unusually warm weather that prompted an early start of the growing cycle.
Spring also saw warmer than usual temperatures. Little rain was seen during the early growing season with mild temperatures and no weather extremes that allowed the flowering to take place, in favourable weather, undisturbed. Low rainfall and dry Spring also meant disease pressure was low allowing for less intervention in the vineyard and subsequently a healthier grape composition.
The onset of Summer saw a continuation of the dry weather. Luckily, cooler temperature throughout the summer- in sharp contrast to the one experienced by the rest of Europe- prevented the vines from shutting down. These cooler conditions lasted through to August where a much-needed rain pushed the maturation forward and benefited the quality and health of the grapes.
Harvesting begun in Autumn, in September where a brief sprinkle of rain also fell at just the right time to prevent drought and keep the grapes fresh and juicy. Warm temperatures in daytime followed by cooler nights, assisted in the slow accumulation of sugars and phenolic ripeness whilst retaining high acidity levels, thus contributing to healthy and balanced grapes.
Grape production was a little higher compared to the 2017 and 2018 vintages, and, perhaps, this was the indicative factor 2019 was not going to be a classic vintage as a small production is synonymous with a classic vintage port declaration.
Due to the mild conditions, grape health was guaranteed across all varietals. Touriga Nacional was exemplary, and the fruit was deep and complex offering good structure. Touriga Franca benefited from the late autumnal rain which offered some hydration and assisted in the retention of its plentiful aromatic intensity. In general, the resulting wines are likely to be extraordinarily successful with freshness and liveliness being the hallmarks of the 2019 ports.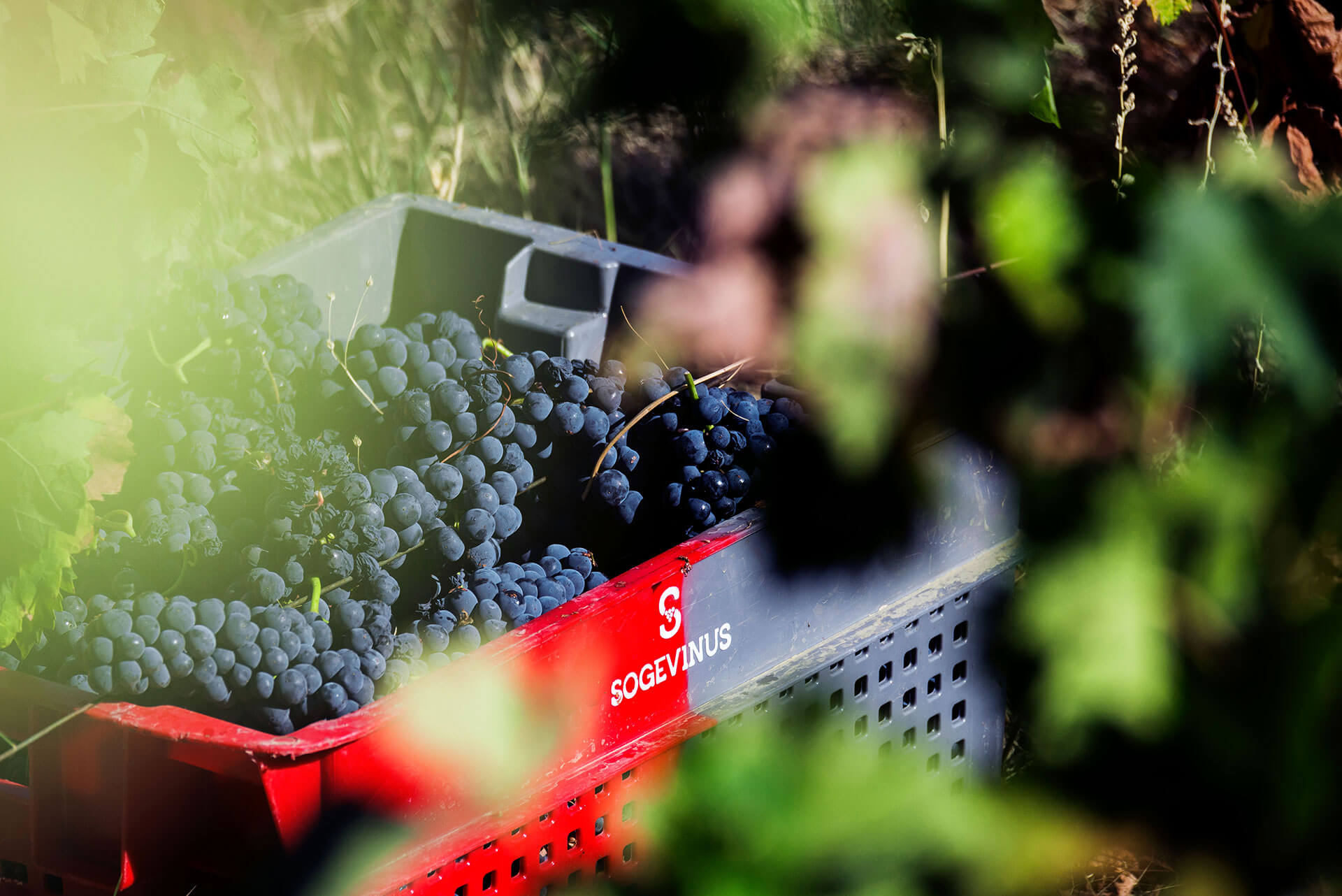 Harvesting crates with beautiful healthy 2019 grape bunches at Sogevinus vineyards.
2019 Classic Vintage Port Declarations
· Quinta Do Noval Classic Vintage, 2019: The decision is in line with the Noval's strategy to declare a 'classic' vintage Port from every harvest, but the quantities produced vary each year. Of the Quinta do Noval 2019, the group said the wine was drawn from 13 different vineyard parcels across its 145-hectare estate. The group has made 2,780 cases, representing around 14% of total production. Christian Seely, managing director of Quinta do Noval, said: "We had perfect conditions in 2019 to take our time and choose the right moment for each parcel, enabling us to pick and to vinify with great precision. The purity, complexity and character of the resulting wines reflect these ideal conditions."
· Quinta Do Noval "Nacional", 2019: Quinta do Noval also declared the 2019 vintage of its highly prized Nacional Port. Produced from a small parcel of ungrafted vines at the heart of the Noval vineyard, only 200 to 250 cases of Nacional are generally made in any declared vintage. The grapes going into a Nacional are planted in a tiny 1.6ha parcel and harvested on one day, that being 9 October in 2019. The grapes are then foot trodden together in one small lagar, so you can imagine the care and precision that goes into every Noval Nacional bottle. "It was not a difficult decision to declare the Quinta do Noval Nacional 2019 following the first tastings of the wine" said Managing Director Christian Seely and went on to describe the 2019 Nacional as "powerful, structured and long…at the same time fine, fresh and elegant" and continued to say, "extraordinarily complex and profound, we believe this to be a great Nacional."





· Niepoort Classic Vintage, 2019: Niepoort declared 2019 as a classic vintage (the previous classic declaration being 2017) and announced this on Dirk Niepoort' s birthday, in a tasting beamed live from the Niepoort Lodge in Vila Nova de Gaia. Dirk, Daniel Niepoort (now Head Winemaker) and Nick Delaforce (Head Port maker) presented the new wine to us via a Zoom Tasting. Comparing the past two classic Niepoort declarations Dirk said "2017 is the closest to perfection in many ways, but 2019 has more personality. It is richer and riper" and he continued to say, "the pandemic gave us time to reflect and produce more focused blends". Head Port Maker Nick Delaforce also commented "the elegance and finesse of Niepoort style is all there" and stated that the 2019 vintage will be bottled in June or July 2021.
We here at Vintage Wine and Port tasted the 2019 Niepoort via an exclusive Zoom tasting with the winemaker and unanimously agree this is a beautifully harmonious and balanced Niepoort. It is fresh and aromatic with aromas of blossom, currants, raspberry jam, black cherry compote, hints of spice and an underlying mineral note rendering complexity. It shows great intensity of fruit and the alcohol is superbly integrated. This is very elegant now, with all the structural components to take this port forward to its evolution in the next few decades.

· Quevedo Classic Vintage, 2019: Up and coming Oscar and Claudia Quevedo are declaring 2019 as a classic vintage and continue to produce outstanding, fully declared vintage ports four years in a row! Oscar announced the declaration during an exclusive interview on Vintage Wine and Port's YouTube channel where he confirmed that, although the 2019 was an extremely dry summer, the vines at Quevedo vineyards performed really well with the grapes adapting to the climatic conditions. Are a result their 2019 vintage port is fresh and balanced with refreshing acidity. There are 5.000lt produced divided into various bottle formats, from half 37.5cl to Magnum 1,5lt bottles and the ports have a fruit driven taste profile.
· Calem & Barros Classic Vintages, 2019:Another back-to-back declaration for these worldly famous brands from Sogevinus Group. Calem produced 3,992 750ml bottles and 24 Magnums of this vintage whilst Barros produced 4,112 750ml bottles and 54 Magnums. In 2019, "the diversity in soil types, grape varieties, sunlight exposure and altitudes enabled a gradual maturation of the grapes, an important factor for achieving high quality grapes", explains Márcio Nóbrega, Head of Viticulture at Sogevinus Fine Wines. "The long period of ripening in 2019, the attention to detail in each plot and close monitoring of the grapes' maturation, were all key factors for achieving very aromatic wines with freshness, assertive tannins and a great depth of colour, thus producing Ports with great ageing potential.
2019 Single Quinta Port Releases
Single Quinta or Single Vineyard vintage ports are gaining ground in recent years. These ports are the epitome of terroir and are offered at unbeatable prices. They are designed to last 15-20 years and, in some cases, even more. In a "Drinks Business" article Paul Symington said: "I would argue that a great Quinta Port at £25 to £30 is one the wine world's greatest purchases and indeed bargains".
· Quinta do Vesuvio & Dow's Quinta da Senhora da Ribeira vintage ports, 2019: Although the Symington have bottled six Quinta Vintage Ports from 2019, they will release two en primeur – Quinta do Vesúvio and Dow's Quinta da Senhora da Ribeira. The release will be accompanied by two limited edition cases from both estates, each containing the 2019, 2009 & 1999 Vintage Ports. Winemaker, Charles Symington commented, "when reviewing the top wines from 2019, we felt that the best expression of our grape varieties came from our six principal quintas. In 2019, the various plots of vineyards within each of these estates delivered small volumes of wine with fantastic depth and complexity. We believe these wines could not have been enhanced by blending across each of our port houses' top quintas to produce a 'classic' Vintage Port. Instead, we decided to blend the best performing components within each of our estates and bottle six Quinta Vintage Ports. These exciting and lively young wines represent the absolute pinnacle of the 2019 harvest. They are stunning today, and I believe they will age beautifully over many decades."
The other Quinta Vintage Ports produced by the Symingtons in 2019 – Graham's Quinta dos Malvedos, Dow's Quinta do Bomfim, Warre's Quinta da Cavadinha and Cockburn's Quinta dos Canais – will age in the Symington cellars in Vila Nova de Gaia for future release.
· Burmester Quinta do Arnozelo & Kopke Quinta de S. Luiz Vintage Port 2019: Apart from classic vintages for Calem and Barros, Sogevinus will also release Burmester and Kopke as single vineyard vintage ports. With a long and elegant finish, in the style of Casa Burmester, the 2019 is the purest expression of the excellence of the Quinta do Arnozelo terroir. Head winemaker for Fortified wines Carlos Alves describes the 2019 Burmester as "A very elegant, floral and fresh wine" while for Kopke's Quinta de S. Luiz he commented: "a firm, fresh and intense Vintage that shows great balance".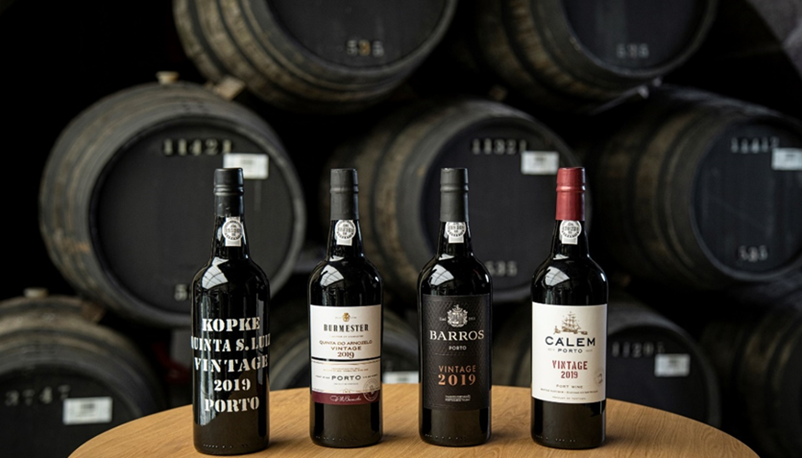 A mix of declarations for Sogevinus, two single Quinta (Kopke & Burmester) to the left and two fully declared ports (Barros & Calem) to the right.
· Taylor's Quinta de Vargellas & Terra Feita, 2019/ Fonseca Guimaraens 2019/ Croft Quinta da Roeda, 2019: For this vintage, the Fladgate Company, owner of Taylor's, Fonseca and Croft have decided to only produce Single Quinta Ports. These will not however get released as En Primeur but kept in the company's cellars for 8-10 years and will be released on the market when the ports have developed a certain maturity. Managing Direction Adrian Bridge comments on Taylor's two single Quinta main differences and why they are offering these as a late release "Quinta de Vargellas 2019 Port shows the elegance and composure which we associate with this great estate, whereas Quinta de Terra Feita 2019 Port expresses a sumptuous opulence and earthiness, hallmark of this historic property. Taylor's has always offered single quinta vintage Port as a mature Port as we are currently selling the Quinta de Vargellas 2013. By putting these aside, we are looking to satisfy demand for such Ports in 2029/2030." Head Winemaker David Guimaraens commented on the Croft: "Roêda is an outstanding property, which includes some old vineyards of great historic interest. These contribute to the wonderful richness of the Roêda vintage Ports, which really stand out for their aromatic complexity."