Offley Port
Founded in London in 1737 by William Offley as a wine trading company, Offley soon began to produce its own port and earn recognition as a high-quality, creative wine House. A decisive moment in the company's development was the arrival of Joseph James Forrester, nephew to William Offley, and his appointment as partner. Forrester, who would later be given the title of Baron by the King in recognition of his achievements, devoted his life and career to furthering the Port industry and his company; he was the first to chart the Douro River and Valley, contributed to key international trade links for Port wine and undertook numerous studies into wine-growing, benefiting the industry with his research into native grapes, soil types and pests.

Unfortunately, the Baron passed in a boating accident on the river he loved so much; the ships in Oporto and Lisbon hoisted their colours to half-mast in respect when the news reached them, and his legacy continues to this day through Offley and the Port wine trade as a whole. He is still affectionately remembered in the wine country as 'protector of the Douro'. Today, Offley takes immense pride in its heritage and aims to 'adjust yesterday's experience to tomorrow's challenges'.
Buy with confidence
All of our wine gifts are available for immediate delivery from our own cellars. Your gift is backed up by our 5-star Trusted shops customer service rating.
Free standard UK delivery for orders over £100
Free tasting notes and personal message (add at the checkout)
Three month replacement guarantee
Choice of Gift Boxes
Winner 2019 IWC UK Fortified Wine Merchant of the Year
3 products found.
Offley Port, 2016
Vintage Port
Presented in Offley Gift Box

The 2016 Offley Vintage Port Wine is a floral, aromatic port bursting with juicy dark forest fruit and hints of sweet spice. The lively acidity balancing the sweetness and the flavour intensity alongside the long finish suggest this is a powerful example of a port from a fully declared and exceptional vintage.






more >>>
Price: $79.93 USD
Stock: 23 in Stock
Buy 6 or more bottles and SAVE 10%
Buy this item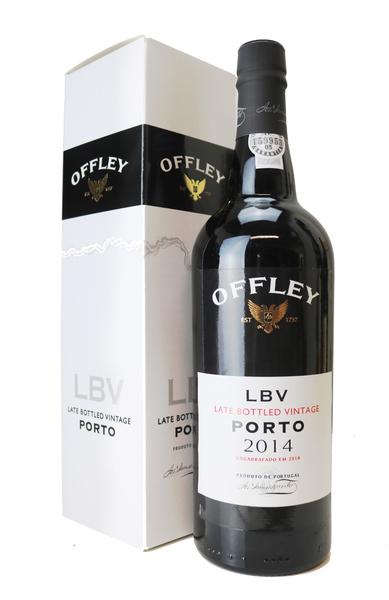 Offley Port, 2014
Late Bottled Vintage Port
Includes Offley thick carton box
This 2014 Vintage Port Wine from Offley is deep ruby in colour. Intense notes of plum and black cherry are pronounced on the nose, along with chocolate notes and hints of cedar and pepper spices from maturation in oak vats. This is a smooth, rich wine with structured tannins, balanced acidity and a harmonious finish.

LBV Ports are made to be early drinking examples of top vintage Ports and as such have an intense structure and fruit flavour. Bottled after two more years in cask than Vintage, the wine is from one single harvest and indicative of the year in which it is made.
more >>>
Price: $25.93 USD
Stock: 22 in Stock
Buy this item

Offley Port, 1998
Colheita Port.
With an attractive red-tawny hue, typical of barrel aged wine, 1998 Offley colheita port wine has a delicate aroma reminiscent of ripe red fruit and enhanced by nutty notes that provide it with an added complexity. In the mouth, there is a fine balance between soft tannins and natural sweetness which combine harmoniously towards an elegant and fine finish.
more >>>
Price: $62.60 USD
Stock: Out of Stock
Buy this item