Fonseca Port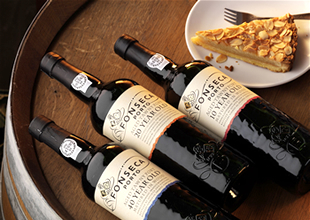 Fonseca is one of the oldest and largest port shippers. First trading in 1815, the firm recruited Manoel Pedro Guimarãens. In 1822 he set sail for England; by travelling he could avoid persecution in Portugal as an outspoken liberal, and sell wines from London that Fonseca shipped. Manoel juggled a successful business with supporting fellow exiles of civil war. When Maria II emerged victorious, he was rewarded with the title of Knight, then Knight Commander, of the Order of Christ.

Around 1860 Manoel's two eldest sons joined the firm, now M.P. Guimarãens & Son. Together they acquired the Fonseca trademark from the original owners' heirs and, almost forty years later, the next generation joined: Frank (Pedro Francis Fladgate Guimarãens) came to Oporto to supervise vintage production. He remained in the position for more than 50 years, and since then the role has been passed to his great-nephew Bruce, then Bruce's son David, Guimarãens. Fonseca is now owned by Taylor Fladgate but David, the sixth generation of Guimarãens, remains as head winemaker.

They are the only House with a perfect 100 points by critics on not one but four separate vintages in the last century, known globally for their wines' intensity of fruit, opulence, structure and balance to last for decades. Wine experts praise the House; Robert Parker wrote: "Fonseca is one of the great port lodges, producing the most exotic and complex port… one might call it the Pomerol of Vintage Ports." James Suckling also endorsed them, stating that Fonseca are "perhaps the most consistently great of all.".
Buy with confidence
All of our wine gifts are available for immediate delivery from our own cellars. Your gift is backed up by our 5-star Trusted shops customer service rating.
Free standard UK delivery for orders over £100
Free tasting notes and personal message (add at the checkout)
Three month replacement guarantee
Choice of Gift Boxes
Winner 2022, 2021 and 2019 IWC UK Fortified Wine Merchant of the Year
Winner Decanter 2022 and 2020 Fortified and Sweet WIne Retailer of the Year
5 Star Trusted Shops Rating
49 products found.