Bollinger, 2007
La Grande Annee Champagne (presented in Original Bollinger gift Box)
* excludes delivery (free standard UK delivery on orders over £100)
Description
Grande Annee, the name, signifies that Bollinger's vintage champagne is only released during 'great' years.

The Grande Annee blend comes only from a particularly fine harvest. When such a harvest occurs the House selects its best wines, cru by cru and grape variety by grape variety - the key to the particular year. Each wine is individually fermented in oak casks prior to blending. On average, the blend is composed of 65% pinot noir and 35% chardonnay.


Condition
Excellent- in originaL box as illustrated
Reviews
Reviews
Forward aromas of flowers, toast and autolysis compete for attention on the delightful bouquet. There's huge power on the dense, lush palate with notes of red apples, stone fruit and ripe figs which are balanced by some refreshingly crisp acidity, before the long, well-defined lingering mineral finish, rounds off this fantastic offering from Bollinger. Very tempting to drink now, but this will improve for another year or two and drink well through 2020 and beyond.

You might also be interested in: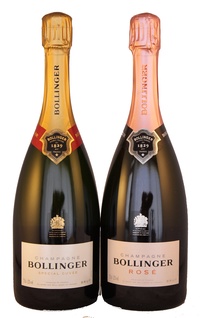 Bollinger
Twin Pack Special Cuvee Brut NV and Rose NV Special offer was £89 | Now only £72.69
A special offer twin pack of Bollinger Brut and Bollinger Rose 75 cl bottles
Bollinger Rose:
Bronze …
£72.69
Bollinger
Bollinger Champagne Special Curvee 750ml - in carton.
Bollinger is made from first-run juice only, and the majority of vineyards used have Premier and Grand Cru status, …
£38.95