Dow's Port- The Vertical Collection
6x75cl- An Outstanding Rated Vertical Collection of Dow's Vintage Port from the Exceptional Vintages 1977,1983,1985, 1997, 2000, 2003
* excludes delivery (free standard UK delivery on orders over £100)
Description
This is a premium vertical collection of Dow's vintage Port Wines from outstanding vintages from 1977 up to 2003. Ready to drink now or hold for a few more years and presented in a six bottle stained gift box with silk liner as illustrated.

1977 Dow's Vintage Port
Medium cranberry red center and slight bricking on the edge. Intoxicating floral fragrance that filled the room, during its nine hour decant; accented by anise, plum and raspberry notes and a bit of spirit. Fresh, fleshy grape, dark cherry and fig flavors melded with underpinnings of licorice, chocolate and warming spirit. It's developing into a stunning middle-aged Port at 34 years of age, with little signs of nearing peak yet. Rich and multi-faceted, smooth and velvety ... even more so the second day it was opened. The acidity was near perfect and the tannins are tame but omnipresent; while the finish was spicy, warm and extremely long. This was an excellent bottle, similar ones will likely drink near peak in fifteen years or so, although quite nice at the moment. Score: 94/100
*Roy Hersh-ForTheLoveOfPort 2011*

1983 Dow's Vintage Port
"This is an extraordinary house that seems to have been particularly successful with its vintage port since 1977.The 1983 is rich, concentrated, very fruity, and magnificently perfumed, suggesting that it is going to mature early, long before the 1977. Parker 1989, Wine Buyers Guide.

1994 Dow's Vintage Port
* 96 points Robert Parker *
"The massive 1994 is unquestionably the finest Dow I have tasted since the 1977. This opaque purple-coloured wine is not as developed or flamboyant as Fonseca, but it is super-concentrated and multi-layered, with huge masses of fruit and some tannin in the finish. This is a slightly drier style than Fonseca or Graham's, but it appears to be a classic, majestic, enormously constituted 1994 that should age effortlessly for three decades or more. It is one of the stars of the vintage." Robert Parker, Wine Advocate.

1985 Dow's Vintage Port
"Drinking beautifully now at early optimal maturity, this has at least another few years of development in front of it and many years of drinking pleasure after that. Now it is nicely developed, well integrated, juicy and ripe with a nice balance between its power, weight, and texture; it is succulent but still elegant. Delicious. Really excellent."
On-Line Publication of Spec's Update 12/2005

2000 Dow's Vintage Port
**94 Points** Robert Parker
"An opaque blue/purple color (typical of this vintage's top offerings) is followed by a strikingly provocative aromatic display (flowers, licorice, blackberries, and cassis). This firmly-structured, classic, tightly-knit, restrained port exhibits brilliant purity as well as impressive intensity. While not the most dramatic or flamboyant, it is a beautiful, classically structured port that will age gracefully. Anticipated maturity: 2008-2030." Robert Parker

2003 Dow's Vintage Port
**94 Points - Wine Advocate**
"The complex aromatics of the opaque, black-colored 2003 Dow Vintage Port display chocolate, dried oak, black cherries, blackberries, copious spices, and a myriad flowers. This fresh, backward wine offers a medium to full-bodied, deeply concentrated core of spice-laced dark fruits. Softly-textured and seductive in the mid-palate, it boasts abundant layers of candied Damson plums, blueberries, black cherries, molasses, and hints of chocolate before revealing its firm structure. Extremely youthful and primary, this exceptional effort demands patience. Projected maturity: 2045+." Pierre Rovani, Wine Advocate 2005.

You might also be interested in:
Quinta do Noval
Vintage Collection Case
2012, 2014, 2015, 2016, 2017, 2018 Vintage Ports
Delivery August / September 2020
Quinta do Noval Vertical Collection.
We are delighted to make available a very special vintage …
$514.69 USD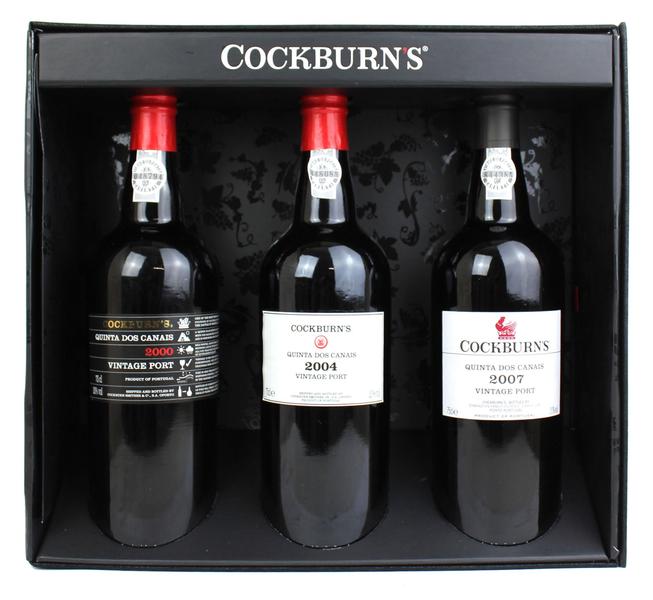 Cockburn Port
Cockburn Quinta dos Canais Mixed Pack
Presentation case containing 2000, 2004 and 2007 Vintages.
All 75 cl bottles.
Cockburn's Quinta dos Canais is a traditional, terraced Upper Douro quinta that …
$181.12 USD