40 Year Old Tawny Port Multiple Award Winner
Flash Offer | Was £79.95 | Now £59.95
* excludes delivery (free standard UK delivery on orders over £100)
Description
*** IWC Gold award Winner ***
*** 90 Points Decanter ***
*** 93 Points Wine Spectator ***

Rated as outstanding by Wine Spectator and receiving the International Wine Challenge gold award, this amazing 40-Year Tawny Port is now available again in the UK through VWP!

Named after the first established English Port wine shipper in Oporto, Walter Maynard, this aged Port has been stored in a barrel for over 40 years until it was bottled for us. Presented in its own gift box, this is a powerful port with complex nuttiness aromas in harmony with spicy notes, warm roasted coffee and cinnamon hints from the long contact with oak wood during the ageing process.

On the palate, an array of flavours flourishes, mainly to toasted nuts and chocolate. The 40 Year-old is an intense and complex port with a mellow and spicy aftertaste.

Condition
New - Bottled 2020
Reviews
90 Points Decanter
"40 year old tawny is always lovely to drink, as the constituent wines have spent so long in oak barrels that the water content has partially evaporated, concentrating the flavours. This has developed a lovely intense palate with flavours of caramelised nuts and burnt orange rind. There is a high level of acidity which cuts through the richness. Absolutely delicious and good value for the style."

93 pts Wine Spectator - Mid-tawny. Clementine, walnut and mocha aromas. Sweet walnuts and earth spices. Rich mouthful finish, almost dry.
You might also be interested in: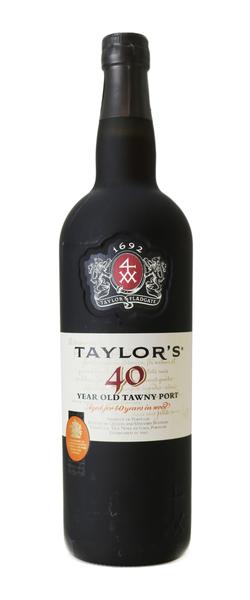 Taylor's 40 Year Old, 1981
Tawny Port - HALF BOTTLE
Only tiny quantities of this aged tawny port are produced each year, making the wines extremely rare …
$106.98 USD