Taste of Portugal Triple Gift Pack, Non Vintage
A sparkling, a dry red and a port - These come in a triple stained box with silk liner as illustrated
Description
This is a lovely gift offering a true Portuguese Wine Experience and comprising of

A 2010 Messias Grand Cuvee Blanc de Blancs sparkling wine:
The unique characteristics of the Chardonnay grapes produce a sparkling Blanc de Blancs wine that is pale yellow colour and medium intensity, fine bubbles and persistent bead. The aroma reveals delicate, citrus notes embedded on the creamy complexity of the "sur lies" recalling roasted almonds and bread. In the mouth there is a soft mousse and crisp acidity, forming an elegant and balanced wine.

2010 Quinta Do Valdoeiro Syrah, Bairrada:
Very intense violet color. Aroma of fruit, spices and chocolate, honed by toasted oak barrels. In the mouth it has a strong structure and silky tannins, with a powerful and fresh flavor. The finish is very long.

2003 Messias Single Harvest Port:
The Messias colheita port from the good 2003 vintage has been aged in a barrel until bottling this year.
The extended barrel aging has given this wine a complex fusion of dried fruit and cedar notes. On the palate the wine is smooth and full bodies with plenty nuts and sweet fruit on the palate, fine balance. A tremendous finish which goes on forever. There's no question about the quality on display here.
You might also be interested in: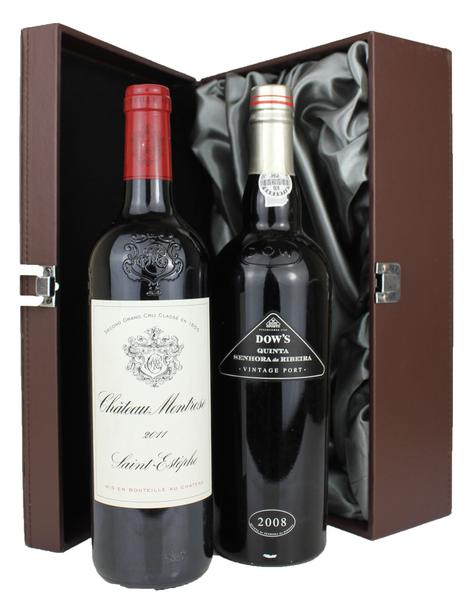 2 Bottle Wedding Gift
2011 Chateau Montrose and 2008 Dow's Quinta Senhora Ribera Vintage Port, both wines come in a Double dark mocha leather effect gift box.)
This is a lovely wedding gift that will be drinking well for many years to come. It comprises of a fine …
$170.52 USD