Taylor's Port
325 Anniversary Edition Reserve Tawny Port
Description
This unique limited edition reserve Port was specially created to celebrate Taylors 325th Anniversary. it pays tribute to all whose priceles legacy of knowledge and skill, passed down the generations for three-and-a-quarter centuries, has assured the company's status as the benchmark for quality Port.

To produce this exclusive limited edition blend, our winemakers have drawn on Taylors extensive reserves of old cask-aged ports and selected individual component wines set aside for the companies 10, 20, 30 and 40 Year Old tawnies.

THE BOTTLES
The enjoyment of wines is part ofthe cutural history, as is the development of the glass bottle.

This bottle is based on the unique late 17th century sealled bottle, made at the time of taylors foundation in 1692. It is the earliest example of a bottle bearing the merchants mark. In this case the '4' and 'xx' symbol still used as the taylors trademark today.

Colour: Deep chestnut brown core encircled by a narrow brick rim.

Nose: A rich figgy nose with a background of toffee and mocha, notes of plum and apricot, spicy hints of black pepper, nutmeg and fleeting scents of jasmine, all come together in a heady complex harmony.

Palate: Dense and luscious, with a wonderful velvety smoothness. The mellow flavours of butterscotch and molasses merge with rich jammy red berry flavours, a perfect blend of youth and maturity.
You might also be interested in: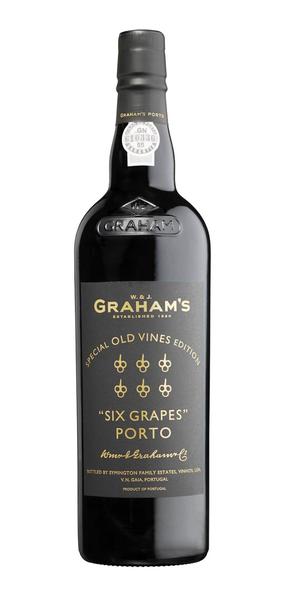 Graham's Port
Graham's Six Grapes Old Vines Port
(Extract from Jancis Robinson's review, (jancisrobinson.com))
To celebrate 'over 100 years' of their …
$50.07 USD
Graham's Port
Grahams Port Selection Pack
This beautifully presented Port Selection Presentation pack would make an ideal Christmas or birthday …
$62.60 USD