Chateau Leoville Lascases
Léoville Las Cases is the most legendary wine of Saint-Julien: on a quality par with the Médoc's first growths, without the hefty price premium to match. It is a prime example of a Bordeaux 'super-second' - a second growth operating at a first growth level.

Léoville Las Cases is also one of the largest, oldest and most picturesque of the Médoc's classified Bordeaux growths. Grapes are fermented at lower than average temperatures, which is partially responsible for the wines displaying some of the most exotic aromas and aromatic richness in the Médoc.
Buy with confidence
All of our wine gifts are available for immediate delivery from our own cellars. Your gift is backed up by our 5-star Trusted shops customer service rating.
Free standard UK delivery for orders over £100
Free tasting notes and personal message (add at the checkout)
Three month replacement guarantee
Choice of Gift Boxes
Winner 2019 IWC UK Fortified Wine Merchant of the Year
2 products found.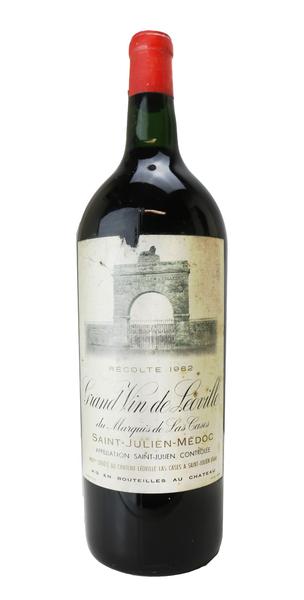 Chateau Leoville Lascases, 1962
St Julien, 2nd Growth Classification (MAGNUM)

Léoville Las Cases is the most legendary wine of Saint-Julien: on a quality par with the Médoc's first growths, without the hefty price premium to match. It is a prime example of a Bordeaux 'super-second' - a second growth operating at a first growth level. Léoville Las Cases is also one of the largest, oldest and most picturesque of the Médoc's classified Bordeaux growths. Grapes are fermented at lower than average temperatures, which is partially responsible for the wines displaying some of the most exotic aromas and aromatic richness in the Médoc.
more >>>
Price: $1,129.96 USD
Stock: 1 in Stock
Buy this item

Chateau Leoville Lascases, 1960
St Julien, 2nd Growth Classification
Las Cases is the most legendary wine of Saint-Julien: on a quality par with the Médoc's first growths, without the hefty price premium to match. It is a prime example of a Bordeaux 'super-second' - a second growth operating at a first growth level. Léoville Las Cases is also one of the largest, oldest and most picturesque of the Médoc's classified Bordeaux growths. Grapes are fermented at lower than average temperatures, which is partially responsible for the wines displaying some of the most exotic aromas and aromatic richness in the Médoc.
more >>>
Price: $290.38 USD
Stock: 1 in Stock
Buy this item