1980 Barros Port
Colheita Port
Includes in original Barros gift box as illustrated
Description
The Barros 1980 colheita port has a tawny colour and an reddish halo. A delicious bouquet of ripe fruit, dried figs and plums, emphasised by an attractive character of wood and spices and caramel. Fresh and velvety in the mouth with a long finish, the Barros is a port wine which has an intense character.

Having just celebrated their 100th year trading in 2013 Barros Port is undoubtedly one of the most prestigious companies producing and trading in Port. Much of their success comes from Colheita ports – old tawnies from a single year matured in cask for a minimum period of seven years. Their expertise in Colheitas has established them as the stand out producer of this style. Barros leave their Colheita ports to mature in cask until being hand bottled to order. The loss of wine from evaporation (what they call the angel's share) is much higher in comparison to bottle ageing. It is a sacrifice they are willing to make and one that helps them achieve unsurpassed quality in their Colheita wines.

Enjoy colheitas slightly chilled, as an aperitif or at the end of the meal with desserts, cheese, nuts and dried fruit.
You might also be interested in: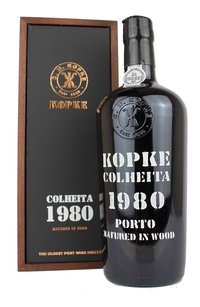 Kopke Port, 1980
Colheita Port
Kopke Port is the oldest port house. Established in 1638 by Nicolau Kopke and his son Cristiano, who …
$162.49 USD