Louis Roederer, 2014
Brut Rose Vintage Champagne with 2 Jamesse Glasses
In Prestige Gift Box
* Free standard UK delivery on orders over £100
* Free vintage report, tasting notes and message
* 3 month replacement guarantee
* IWC Fortified retailer of the 2021 and 2019
* 5 Star Trusted Shops rating
Description
Louis Roederer Brut Rose Champagne Gift Set is the latest gift from the House of Louis Roederer Champagne with the new style label and two 'Jamesse' tulip shaped champagne flutes. Louis Roederer's Brut Premier is the embodiment of Louis Roederer style, combining all the fruitiness and freshness of youth with the vinosity of a fully mature wine.

Golden pink hue with bright red tints. Exceptionally fine, lively sparkle forming even, persistent streams of bubbles.

Intense bouquet of ripe fruit (blackcurrant) and candied orange, accompanied by subtle notes of orange blossom and Madagascar vanilla. The bouquet is very stable, dense and opens out slowly to reveal a deep, sweet character.

Smooth and full-bodied on entry to the palate. Its ripe, warm palate is both tactile (silky texture) and rounded (ripe, sweet anthocyanins with an almost liquorous consistency), and is lengthened by a fresh, chalky finish. Subtle notes of hazelnut and cocoa beans linger on the end palate.
You might also be interested in: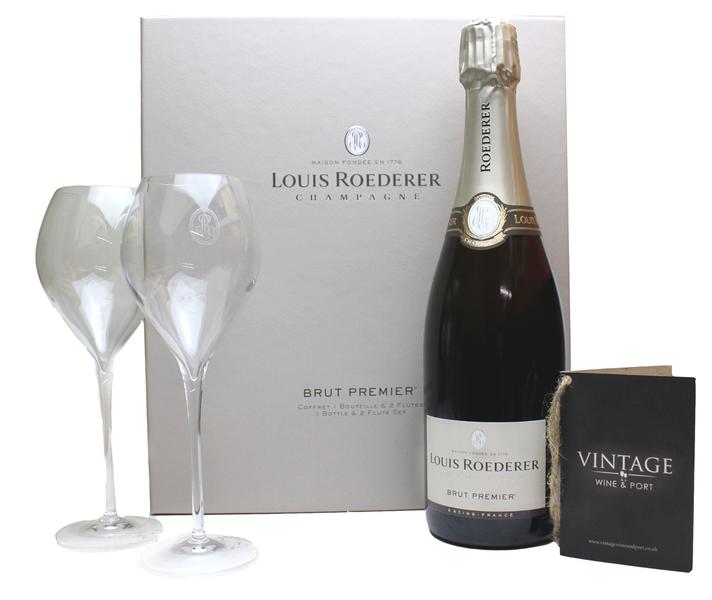 Louis Roederer
Brut Champagne with two Jamesse glasses in a gift box

Louis Roederer Brut Premier Champagne Gift Set is the latest gift from the House of Louis Roederer Champagne …
$101.05 USD