Niepoort Port, 1983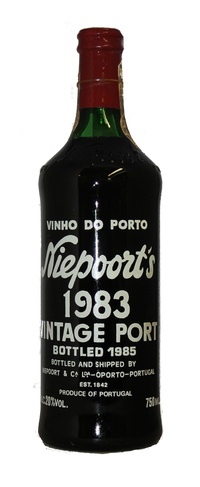 Description
"Niepoort is to Vintage Port what Krug is to Champagne. They are both small houses in a world dominated by large competitors but they are producing outstanding wines which very few can match." (James Suckling, Vintage Port).

Niepoort is a family company now in its fifth generation and presently managed by Dirk Niepoort. Despite being the second smallest shippers in the trade they are second to none in quality. Already famous for their classic tawny ports, they have now joined the ranks of the great producers of Vintage Port.

Vintage Port must be bottled within two years of the harvest date and be 100 per cent wine from that harvest. The magic of Vintage port is different in every phase: as a young wine it captures the youthful fruit characters, then after 20 years or more the effects of the slow bottle age integration are revealed and finally after many decades the spirit dominates the wine. Vintage Port is amazing in all the three phases. Maturation in the bottle is more reductive than cask ageing and the wine that results has a fruitiness and power which develops in the traditional ageing vessel, the classic, thick, black port bottle.
You might also be interested in: