Quevedo, 2018
Claudias Branco 2018
White Douro Wine
Special Offer | Was £16.95 | Now £14.95
89 Points - Robert Parker
* Free standard UK delivery on orders over £100
* Free vintage report, tasting notes and message
* 3 month replacement guarantee
* IWC Fortified retailer of the 2021 and 2019
* 5 Star Trusted Shops rating
Description
*** 89 Points Robert Parker ***

The 2018 Claudia's Branco Reserve is a blend of 40% Viosinho, 30% Gouveio, 15% Fernão Pires and 15% Arinto, aged for six months in second use oak.

Winemakers Notes
Most of the wines from the Douro are named after the vineyards where the grapes that make the wine come from. Difficult names, hardly to pronounce and easy to forget. Also, they commit the winemaker to a blend of grapes from that property that in certain years, being for a dry Winter, rainy Spring or just under performance of a certain variety the winemaker maybe not like that much. On the top of that our winemaker has a lovely name that is hard to forget. Exactly, Claudia it is! So Claudia's wine is an expression of what Claudia, the winemaker together with Teresa, love most on each harvest. Claudia's wine is a blend of grapes from different plots. They don't follow the some recipe every harvest as the vines don't produce the same grapes every year. One thing we can assure, all our grapes are hand picked and treated as small treasures.

Reviews
89 pts Robert Parker - 89 pts Robert Parker - Reasonably solid in the mid-palate, the most important issue here is its fine combo of depth, finesse and freshness. It handles its oak beautifully. Smooth and rounded, it should drink well, good on its own, but better with food. It finishes with just a bit of steel. The concentration is subtle--it doesn't seem big and fat--but it is real enough.
You might also be interested in: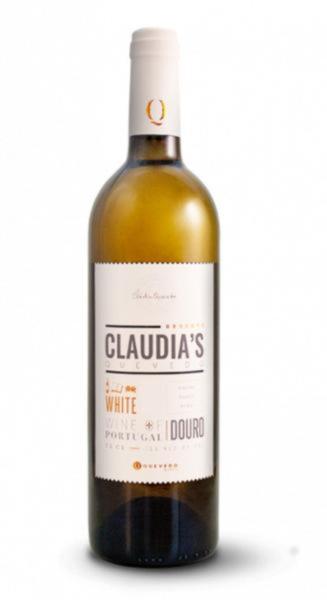 Quevedo, 2019
Claudia's Reserve White Douro Wine 2019
Special Offer | Was £16.95 | Now £14.95
90 Points - Wine Advocate.
The new release of 2019 Claudia's Branco Reserve is a blend of 40% Viosinho, 30% Gouveio, 15% Fernão Pires and 15% Arinto, …
$18.64 USD