Quinta do Noval Port, 2012
Vintage Port SINGLE bottle 75cl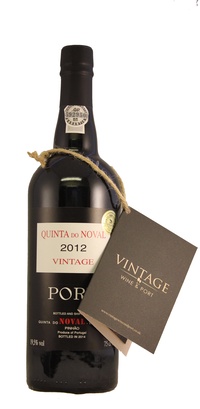 * excludes delivery (free standard UK delivery on orders over £100)
Description
A 2012 Quinta do Noval Vintage Port Wine. Throughout the upper Douro, a wet spring and summer drought conditions that year reduced grape production overall. However, the mild temperatures through the year enabled the vines to reach excellent maturity. It was decided that the harvest would start one week later than normal at Noval. This was a huge success with the grapes that were picked small but perfectly formed, with outstanding flavour and freshness in the musts.

The result is a Vintage Port which, according to wine-making director Antonio Agrellos: "is a classic example of the Quinta do Noval style and a worthy addition to the recent Quinta do Noval declarations such as 2011, 2008 and 2007".

"A wonderful balance of concentration and delicacy, complex aromas of violets and cedar overlay a core of fruit with purity and freshness.'.
You might also be interested in: