Fonseca Port, 1998
Guimaraens Vintage Port ( Comes in Original Fonseca Box with decanting funnel as illustrated)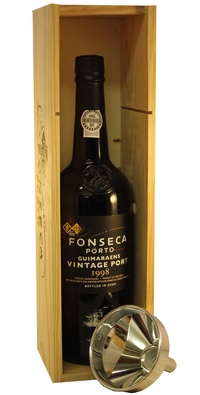 Description
The 1998 Fonseca Guimaraens is intensely rich and concentrated, with a voluptuous femininity and sublime, velvety texture. Beautifully structured and perfectly balanced, it shows the superb marriage of power and breed for which the house of Fonseca Guimaraens is renowned.

In the early 1950s, the rising demand for vintage Ports led Fonseca Guimaraens to create a second vintage Port under the ""Guimaraens"" label in undeclared years. There is a considerably smaller blend of Guimaraens Vintage produced than of Fonseca Vintage Porto, and these non-classic wines, offer an exceptional value for their quality and rarity.
Condition
excellent with funnel as standard packaging.
You might also be interested in: