Triple Premium French and Italian Wine Selection 250, Non Vintage
3x75cl 2005 Bollinger La Grande Annee Champagne, 2011 Barolo Michele Chiarlo Tortoniano, 2008 Chateau Vincent, Margaux
Description
This lovely premium wine selection includes a vintage Champagne, an age-worthy Barolo and a fine Bordeaux. All wines are presented in a triple stained wooden gift box with silk liner as illustrated.


2005 Bollinger La Grande Annee Vintage Champagne
Grande Annee, the name, signifies that Bollinger's vintage champagne is only released during 'great' years.
The Grande Annee blend comes only from a particularly fine harvest. When such a harvest occurs the House selects its best wines, cru by cru and grape variety by grape variety - the key to the particular year. Each wine is individually fermented in oak casks prior to blending. On average, the blend is composed of 65% pinot noir and 35% chardonnay.

Reviews
Forward aromas of flowers, toast and autolysis compete for attention on the delightful bouquet. There's huge power on the dense, lush palate with notes of red apples, stone fruit and ripe figs which are balanced by some refreshingly crisp acidity, before the long, well-defined lingering mineral finish, rounds off this fantastic offering from Bollinger. Very tempting to drink now, but this will improve for another year or two and drink well through 2020 and beyond.

2011 Barolo Tortoniano, Michele Chiarlo
From the Nebbiolo grape grown around the town of Barolo, this wine is full and complex with a rich and intense aroma. Well structured with earthy notes and firm tannins through to an elegantly long finish.

Serving Suggestion:
At 18C with game, roast and grilled meats and mature cheese.

Chateau Vincent, Margaux
It would be hard to find a better placed vineyard than that of Ch. Vincent situated, as it is, entirely within an enclave of Ch. Palmer. When her husband died in 1968, Madame Domec formed an arrangement with Ch. Palmer in that they would tend the vineyards and make the wine, in return for two thirds of the harvest. Possibly the best kept secret in Bordeaux.
You might also be interested in: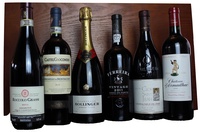 6 Bottle Premium Wedding Gift Set
1st, 5th,10th, 20th, 25th and 30th Wedding Anniversary
A Premium Champagne, Wine and Port Selection beautifully presented in a 6 bottle wooden, silk lined …
$442.08 USD