Veuve Clicquot, 1989
La Grande Dame Champagne Brut Rose in presentation case
* excludes delivery (free standard UK delivery on orders over £100)
Description
*** 92 points Wine Spectator ***

Lovely nose with rye and a hint of milk chocolate but also sweet tobacco, black tea, dark coffee beans.
Sweet and juicy red apples on the palate that still has a young expressions. Also Rye and coffee with some bitter notes that collects everything together in a very impressive way.
Condition
good level and label
You might also be interested in:
Veuve Clicquot, 1982
Ponsardin
Fantastic colour shows some age but still vibrant and fine bubbles. On the nose brioche, vanilla and …
$404.00 USD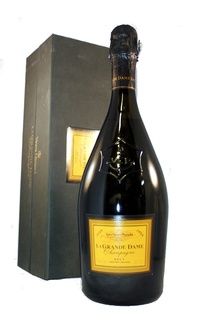 Veuve Clicquot, 1988
LA Grand Dame Champagne in gift box
This Vintage is made up from twenty villages all classified as Premiers or Grands Crus, located …
$383.46 USD