1956 Wine and Port Vintage
Italian: While the rest of Europe suffered poor weather, Italy produced a good vintage. Top regions such as Tuscany and Piedmont produced rich, full bodied wines. The 1956 wines are fully mature but will still make good drinking today, especially long-lived grapes such as Barolo - these would make a great 66 year old wine gift for a birthday or anniversary this year.

Bordeaux: Unfortunately, poor weather conditions led to the production of one of the worst vintages on record for Bordeaux - avoid!


Buy with confidence
All of our wine gifts are available for immediate delivery from our own cellars. Your gift is backed up by our 5-star Trusted shops customer service rating.
Free standard UK delivery for orders over £100
Free tasting notes and personal message (add at the checkout)
Three month replacement guarantee
Choice of Gift Boxes
Winner 2022, 2021 and 2019 IWC UK Fortified Wine Merchant of the Year
5 Star Trusted Shops Rating
2 products found.

Tokaji, 1956
Asju Essencia (Half litre, 50cl)
This 1956 Tokaji Aszu Essencia is a sweet wine of stunning concentration and complexity. A rich complex wine with incredibly deep concentration, bitter oranges, ginger, manuka honey aromas and flavours can be found, but though super sweet it is perfectly balanced with succulent citrus acidity. Harmony, balance and depth are absolutely world class.

After the Essencia, the Aszú Essencia (often confounded with the Essencia) is the second highest quality level among Tokaj wines. Its preparation is the same as that for the Aszú, and it is produced only in excellent years. The quality level is not indicated anymore by the number of puttonyos. …
more >>>
Price: $491.09 USD
Stock: 1 in Stock
Go to Product details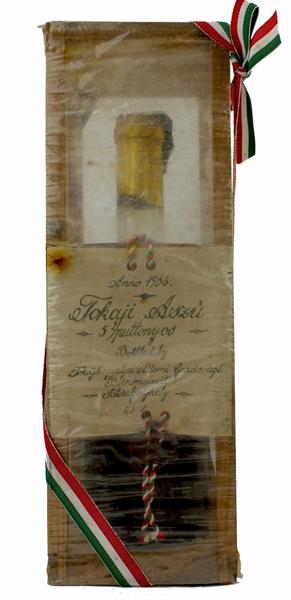 Tokaji, 1956
Asju 5 Puttonyos (Half litre, 50cl) In original box
This 1956 Tokaji Aszu 5 Puttonyos is a sweet wine of stunning concentration and complexity. A rich complex wine with incredibly deep concentration, bitter oranges, ginger, manuka honey aromas and flavours can be found, but though super sweet it is perfectly balanced with succulent citrus acidity. Harmony, balance and depth are absolutely world class.

After the Essencia, the Aszú Essencia (often confounded with the Essencia) is the second highest quality level among Tokaj wines. Its preparation is the same as that for the Aszú, and it is produced only in excellent years. The quality level is not indicated anymore by the number of puttonyos. …
more >>>
Price: $435.14 USD
Stock: Out of Stock
Go to Product details