New World Arrivals
Posted 3 July 2018
by Dia Grigoriou
Although Vintage Wine and Port specializes mainly in fine wine from the Old World, we do love a quality New World alternative!
Our directors and wine buyer recently travelled to South Africa and were absolutely thrilled and impressed with the Klein Constantia Estate's history and excellent wines, so they decided to bring them home and add them to our portfolio. Apart from covering a gap in our white wine list, this new addition makes the recently very hot June and July in the UK slightly cooler and bearable - not that we should complain anyway!
In addition to these, we couldn't help but include some stellar multi-awarded Australian Shiraz from Kilikanoon, the perfect choice to pair with those marvellous summer BBQ gatherings.
If you are intrigued by our introduction, please read more below about the interesting history of this beautiful Cape Estate and discover the delightful taste of its wines along with our food pairing suggestions.

KLEIN CONSTANTIA - AN HISTORIC ESTATE:
The world famous historic estate Klein Constantia planted its first vines in 1652, when the Dutch East India Company's first commander Jan van Riebeeck arrives at the Cape. Whilst having an official duty to build a fort, Van Riebeeck and chief gardener fall in love with the Cape's heavenly nature and decide to plant the first vines in the Company Gardens. A few years later, in 1659, Van Riebeeck writes in his diary: 'Today, praise be to God, wine was made for the first time from Cape grapes, namely from the new must, fresh from the vat. The grapes were mostly Muscadel, and other white round grapes, very fragrant and tasty.'
Moving forward some 30 years and some tasty fragrant wines later, in 1685, he 10th Commander of the Cape Simon Van der Stel is granted his own farm. To find the most favourable wine growing location, he had put his men to work, digging up baskets of soil from Table Bay to Muizenberg, with each sample sent to the Castle for testing. Satisfied that the sheltered valley facing False Bay had the most potential, with its decomposed granite soil, he claims it and calls it Constantia.
The Constantia estate makes exceptional wines throughout the 16th century continuing to build its magnificent reputation internationally. By the end of 1700's Constantia is soon a favourite among European nobility including Prussian Emperor Frederick the Great. And that's nothing compared to the the Versailles cellar of Louis XVI and Marie-Antoinette, which in November 1782 contains 2,634 bottles of 'Vin du cap de Constance' (compared to only 2,031 bottles of Burgundy, the traditional 'wine of kings'). In 1811 in her first published work, Jane Austen writes about 'the finest old Constantia wine…that ever was tasted' and recommends it for its 'healing powers' on colicky gout and disappointed hearts alike! Napoleon Bonaparte, while in exile on the island of St Helena, enjoys up to a bottle of 'vin de Constance' daily. He even reportedly requests a glass on his deathbed, refusing all other food and drink offered to him (clever man!).
This racy production of wines of excellence would have continued if the fungal Vine disease Oidium had not arrived in Western Cape around the mid 1800's. This, along with the financial misfortunes of the owners at the time, led the golden age of Constantia to an end. For more than a century thereafter, sweet Constantia wine survives only in poetry and prose - and in the illustrious cellars of Europe's great wine collectors.
The estate changed a few hands throughout the 18th century with owners failing to restore its vines and sublimity until 1980 when Duggie Jooste buys Klein Constantia and decides to revive the farm to its former wine making glory with the help of Professor Chris Orffer of Stellenbosch University. Winemaker Ross Gower and architect Gawie Fagan begin work on the new cellar, which is finished just in time for the maiden vintage release in 1986. Klein Constantia releases its first new vintages for commercial sale in over a century. The wines are widely celebrated and praised, most especially the 'Vin de Constance', a recreation of the original mythical Constantia sweet wine so beloved in the 18th and 19th centuries.
Along the sweet natural wine, the estate in the new era takes advantage of the relatively cool climate of the Cape and produces very consistent and delicious estate grown Sauvignon Blanc and Chardonnay as well as a South African take on the international red varieties blend.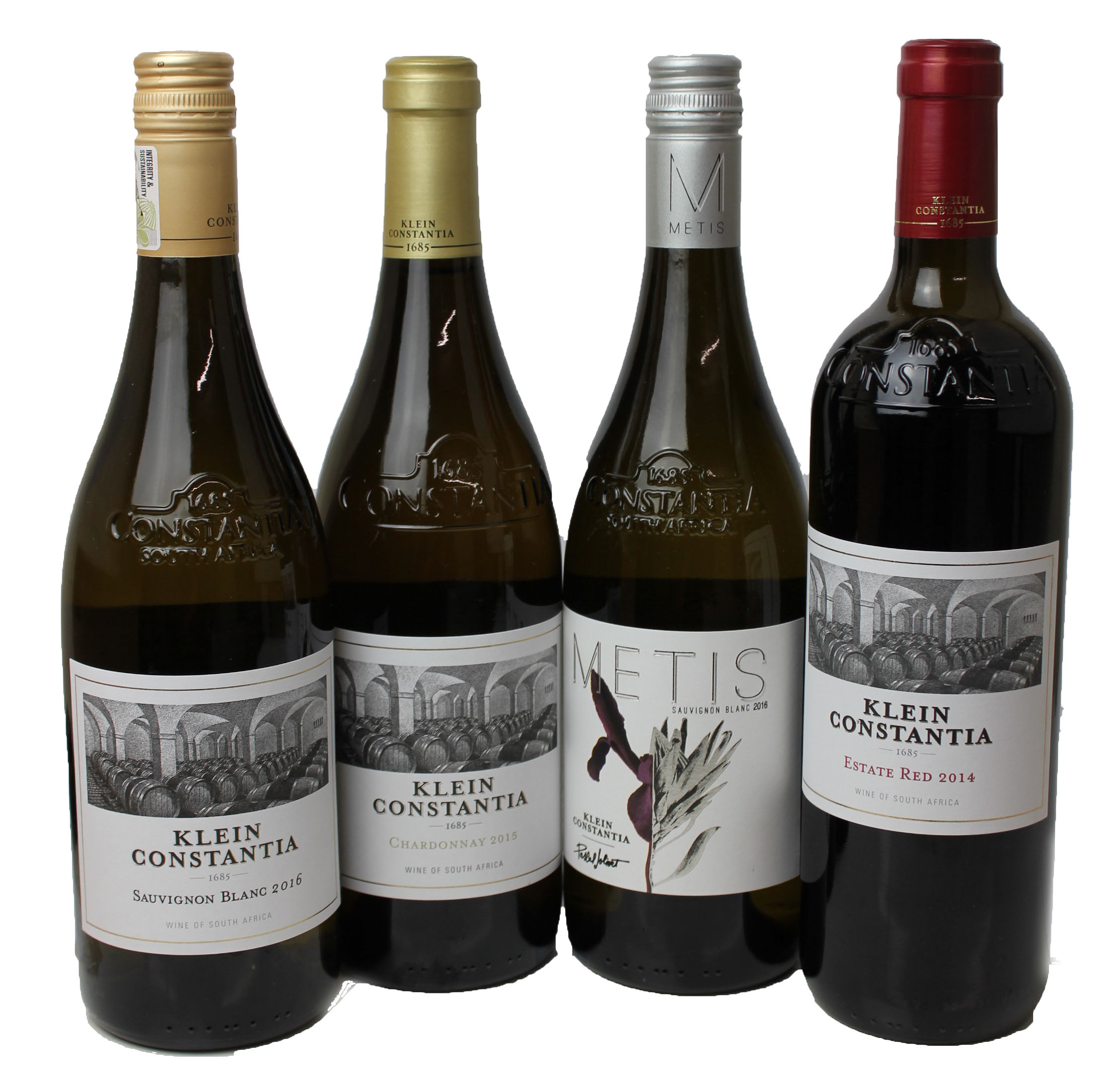 THE WINES:
Sauvignon Blanc 2016: Today Klein Constantia's premium estate range is led by a world acclaimed and highly popular Sauvignon Blanc that regularly garners awards and praises as one of South Africa's best wines.
Tasting Note: A light green appearance with ripe tropical aromas of pineapple and passion fruit. The palate is expressive and classically Sauvignon with its racy acidity and the finish is clean and refreshing with mineral notes.
"Metis" Sauvignon Blanc 2016: This wine was inspired by Pascal Jolivet and his holistic approach to winemaking in Sancerre. Using a unique and minimalistic approach to winemaking, we were able to make a wine that shows the true expression of the Constantia terroir. The name Metis refers to the collaboration between the two countries to produce this great wine. This fusion of philosophies is reflected in the flower on the label that is a hybrid of the South African Protea and French Iris.
Tasting Note: Bright and light in appearance with fresh citrus aromas. The wine has a round and expressive palate, full and grippy with a zesty acidity. It finishes with a long burst of mineral and lime flavours.
Pair these zesty fresh Sauvignon Blanc wines with seafood-based dishes. Fish such as snapper, sole, sea bass or haddock is wonderful with Sauvignon Blanc. It works wonders with cheese too, especially goat and mild cheeses will go beautifully with this refreshing white. For vegetarians, vegetable heavy dishes with lots of fresh greens are a great match for grassy Sauvignon Blanc.
Chardonnay 2016: The Estate's unique terroir and cool climate consistently provides concentrated grapes full of flavour with a distinct freshness enabling us to produce a Chardonnay which is crisp with an enticing complexity.
Tasting Note: Fresh and light toastiness on nose with butterscotch and nutmeg aromas. Medium bodied with an elegant structure, the wine has a flintiness with a balanced acidity that leads to a long finish.
Pair this crisp Chardonnay with fish pie and fish cakes (especially salmon fish cakes) other simple salmon preparations (simply poached or with a buttery sauce). Pasta in a creamy sauce, chicken, pork, ham or cheese-based salads such as Caesar salad or chicken salads that include peach, mango or macadamia nuts, mild curries with buttery sauces (such as chicken makhani) pair fabulously with a lightly oaked Chardonnay.
Klein Constantia Estate Red 2014: The Estate red blend comprises of Cabernet Sauvignon, Shiraz, Petit Verdot and Malbec. Each parcel is carefully identified, and blocks are split into multiple portions to harvest at the perfect ripeness. The grapes are then bunch and berry sorted to ensure that only the healthiest berries are selected. Malo-lactic fermentation takes place in 50 % new French oak barrels after alcoholic fermentation. The wine is then aged for 12 months before blending and bottling.
Tasting Note: Intense red and black fruit with elegant notes of cinnamon spice on the nose. The palate is full bodied and savoury with a well-integrated oak component, ending with a long and rich finish.
Pair this full-bodied red with grilled and roast lamb with garlic and rosemary. Roast beef, veal and venison. Steak pies. Beef daubes, ox cheek and other stews cooked in red wine. Hard British territorial cheeses such as Cheshire and red Leicester and French Mimolette.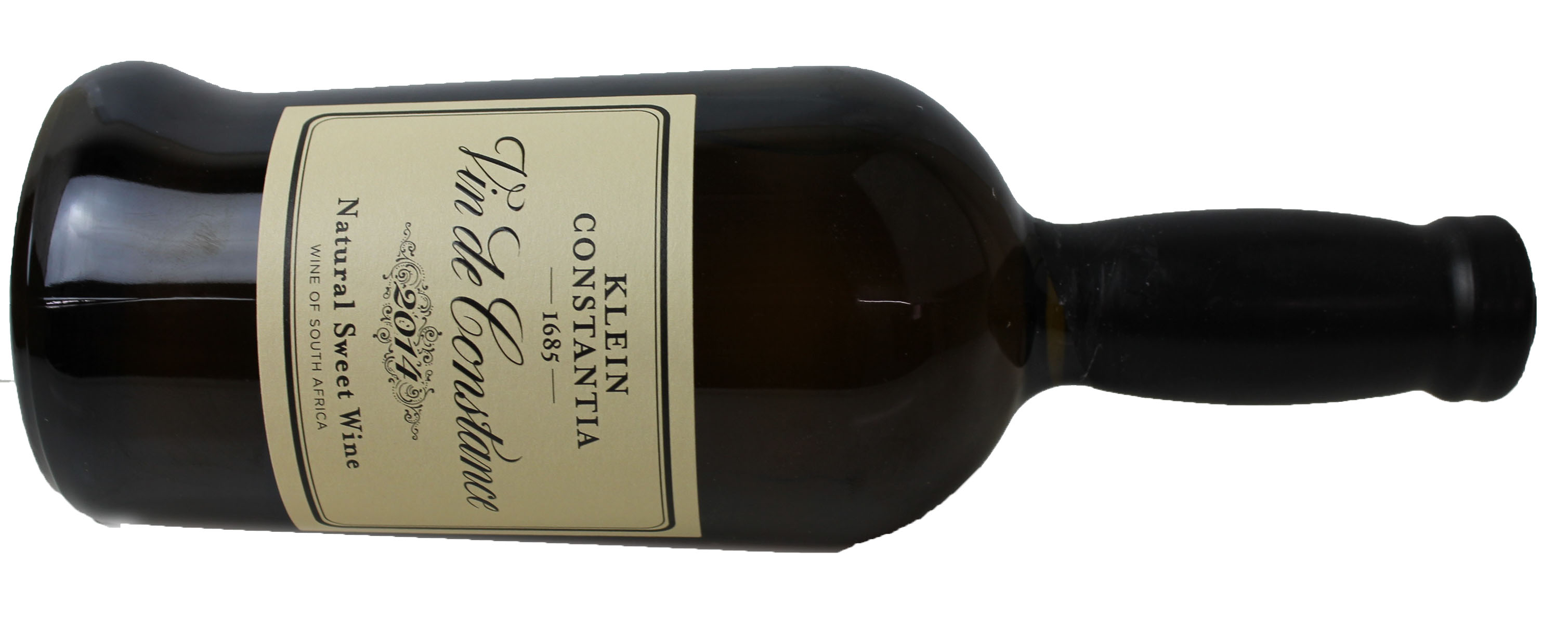 And for those of you with a sweet tooth...
Vin de Constance Natural Sweet Wine 2014: Klein Constantia's lusciously sweet wine, Vin de Constance, rose to prominence in the 1800s. It was savored by the likes of Napoleon Bonapart, Queen Victoria and Thomas Jefferson and found its way into the writing of many great 18th and 19th century authors. With the ocean just 10km away, the cool climate and near constant sea breeze create ideal growing conditions for Muscat de Frontignan which is able to fully ripen before raisining begins. The soils are well-draining, fertile decomposed granite with high clay content. They ensure good water retention which is important given the long dry summers of the Cape.
Tasting Note: Golden orange in colour, with delicate aromas of nougat and honeycomb. The palate has a fresh acidity with rich flavours of Seville marmalade and dried apricots enveloping the mouth. These fruity notes are married with sandal wood and all spice flavours. Richly aromatic that tapers into an elegant and endless finish.
Pair this lusciously sweet wine with a cheese plate with a variety of soft and bleu cheeses and is equally well paired with fruit-based desserts, berries, cookies and caramel. This wine brings a spectacular finish to an exceptional meal.
FINALLY, ENJOY THE WARM SUNNY DAYS WITH OUR FINE AUSTRALIAN SELECTION: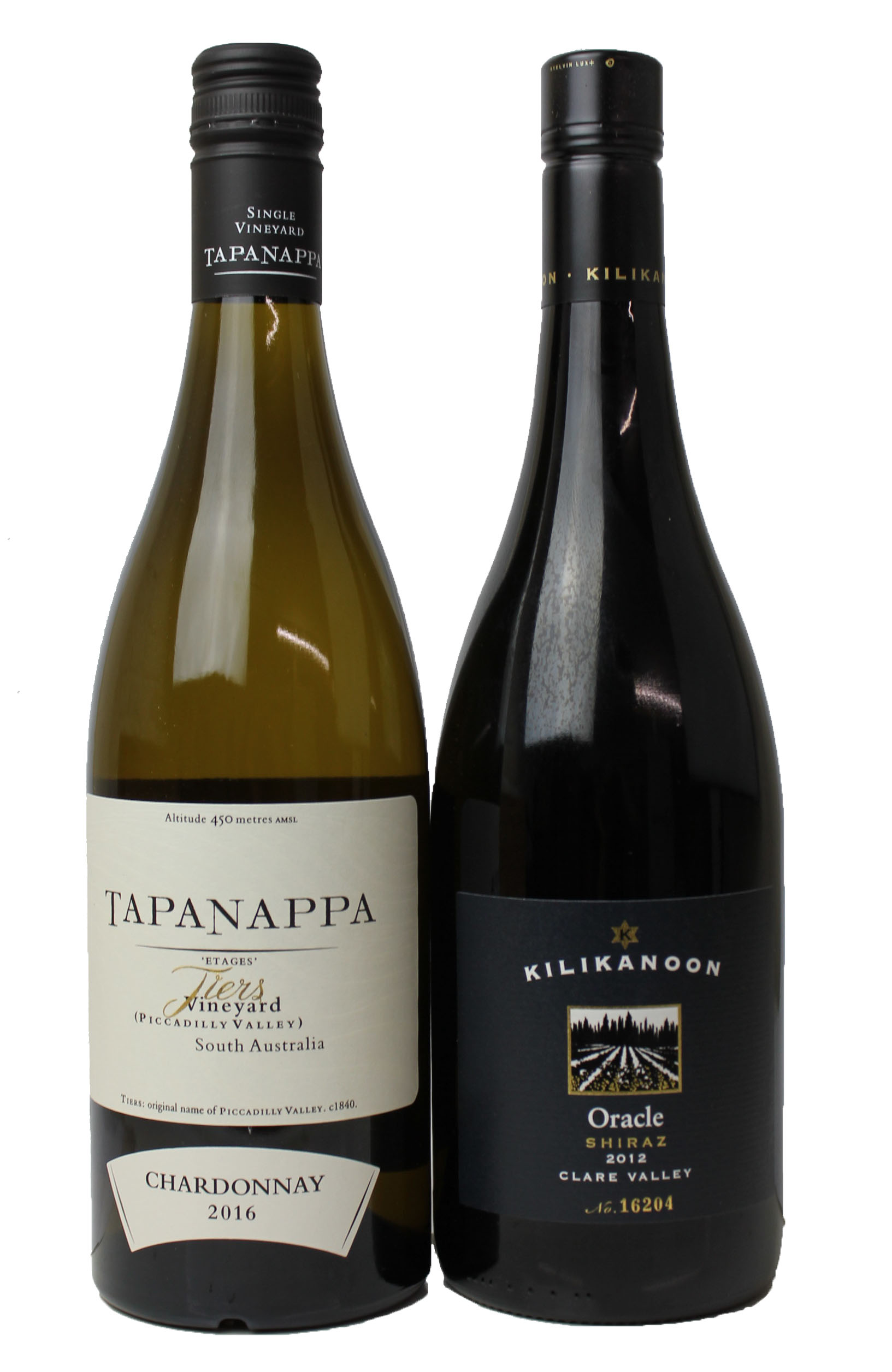 Kilikanoon Oracle Shiraz 2012:
*** Gold Medal- International Wine & Spirits Competition 2016***
*** Gold Medal- Berliner Wine Trophy 2017***
This truly is an iconic wine. Twice named best Shiraz at international wine shows, it has been produced every year since 1997 [except for 2011]. Crafted from low-yielding old vine Shiraz parcels grown along the golden hillsides in Leasingham, vinified separately and aged for 20 months in a selection of new and one-year old French oak hogsheads. Bottled without fining or filtration. This was a standout vintage, and this truly is an opulent wine!
Tasting Note: Brick red in colour with youthful crimson hues. Elevated notes of ripe plums, dark chocolate, exotic spices and charry oak influences enliven the senses. A balanced and focused palate, the flavours of fresh berries, cherry plums and dark chocolate feature predominantly, beautifully enhanced and complexed by the long lived natural tannins and classy French oak. A wine easily consumed whilst young but with clear rewards to those you choose to cellar for longer.
Pair this full-bodied red with barbecue dishes, especially spareribs, grilled meats and vegetables, barbecued and braised chicken, hamburgers, braised beef, roast leg of lamb and aged hard cheeses.
Tapanappa Tiers Vineyard Chardonnay 2016: Today Tapanappa is wholly owned and run by the Croser family of the Piccadilly Valley in South Australia's Adelaide Hills. Tapanappa was created in 2002 by Brian and Ann Croser in partnership with Bollinger of Champagne and the Cazes family of Lynch Bages in Pauillac, to utilise three of Australia's most expressive and unique distinguished sites to create fine wines of distinction. Since 2014 the Croser family reached agreement with Bollinger and the Cazes family that Tapanappa's future as a fine wine company would be optimised when wholly owned by the Croser family.
Tasting Note: 2016 Tapanappa Tiers Chardonnay ripened early and fully because of the very warm growing season. Riper honey and fig characters complement the typical Tiers Vineyard peach flavour and aroma and significant texture. The wine finishes with a grapefruit and quince nuance again typical of The Tiers Vineyard terroir expression.