Champagne and Rhone Duo, Non Vintage
Bollinger Rose Champagne + Chateauneuf du Pape 2006 Domaine La Barroche (2x75cl in a double leather silk-lined gift box)
Description
Both wines are beautifully presented in a double leather gift box with silk liner as illustrated.

Bollinger Rose NV:
A recent addition to Bollinger's range, which delivers their trademark fullness with the addition of luscious berry notes. "Packed with strawberries, lily of the valley and toasted wheat, with a sensual, silky texture" Joanna Simon, Sunday Times Style.

Chateauneuf du Pape, 2006 Domaine La Barroche
Robert Parker
The 2006 Chateauneuf du Pape Signature is the lightest of the four 2006 cuvees. It exhibits a dark ruby color, rich black cherry and black currant fruit, loads of fruit in the mid-palate, a medium-bodied, elegant mouthfeel, and light tannins. Drink it over the next 6-7 years. Christian and Julien Barrot's Domaine La Barroche burst on the wine scene with very good 2004s, and sensational 2005s, especially the out-of-this-world 2005 Chateauneuf du Pape Pure. These are four very different styles of Chateauneuf du Pape. The Terroir cuvee comes from the well-known sectors called Pialons and Cabrieres, and is a 95% Grenache offering aged completely in foudre.
You might also be interested in: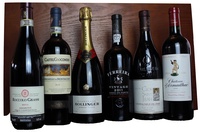 6 Bottle Premium Wedding Gift Set
1st, 5th,10th, 20th, 25th and 30th Wedding Anniversary
A Premium Champagne, Wine and Port Selection beautifully presented in a 6 bottle wooden, silk lined …
$474.30 USD