Claudia's Reserve White Douro Wine 2019
Special Offer | Was £16.95 | Now £14.95
90 Points - Wine Advocate.
* Free standard UK delivery on orders over £100
* Free vintage report, tasting notes and message
* 3 month replacement guarantee
* IWC Fortified retailer of the 2021 and 2019
* 5 Star Trusted Shops rating
Description
The new release of 2019 Claudia's Branco Reserve is a blend of 40% Viosinho, 30% Gouveio, 15% Fernão Pires and 15% Arinto, aged for six months in second use oak.

Winemakers Notes
Most of the wines from the Douro are named after the vineyards where the grapes that make the wine come from. Claudia's wine is an expression of what Claudia, the winemaker together with Teresa, love most on each harvest. Claudia's wine is a blend of grapes from different plots. They don't follow the some recipe every harvest as the vines don't produce the same grapes every year. One thing we can assure, all our grapes are hand picked and treated as small treasures.





Learn more about Quevedo

Reviews
Reviews:
90 Points Mark Squires - Wine Advocate June 2021.
The 2019 Claudia's Branco Reserve is a blend of 33% Viosinho, 23% Fernão Pires, 17% each of Rabigato and Gouveio and the rest Arinto, all aged for eight months in an equal mixture of one-third new French and Hungarian oak. It comes in at 13.3% alcohol. Elegant and fresh, this still has surprising persistence on the very respectable finish. It handles the new wood pretty well, and that should continue to get better. It is not the most concentrated Reserve, but it doesn't feel thin, and it coats the mouth nicely. Overall, this is lovely, and its structure suggests that there is some room for improvement over the next couple of years. It does need to prove it can hold and develop a little to justify my enthusiasm, but it's worth leaning up for the moment.
You might also be interested in: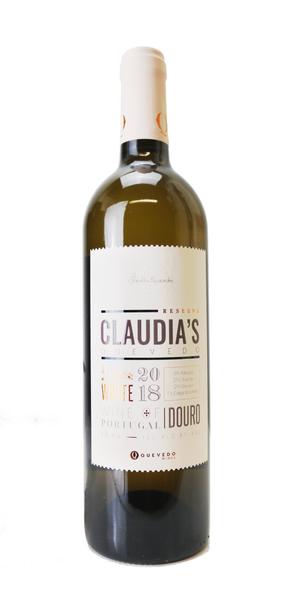 Quevedo, 2018
Claudias Branco 2018
White Douro Wine
Special Offer | Was £16.95 | Now £14.95
89 Points - Robert Parker
*** 89 Points Robert Parker ***
The 2018 Claudia's Branco Reserve is a blend of 40% Viosinho, 30% Gouveio, …
$18.90 USD

Messias, 2019
Bairrrada Qta.Valdoeiro Reserva Branco 2019, white wine
Caves Messias was founded in 1926 by Mr. Messias Baptista, who served as chairman until 1973. The management …
$18.90 USD