Taylor's 30 Year Old Tawny Port - Half bottle
Tawny Port - HALF BOTTLE (37.5 cl)
* excludes delivery (free standard UK delivery on orders over £100)
Description
Only tiny quantities of this aged tawny port are produced each year, making the wines extremely rare and amongst the most revered in the world. This Tawny ports has been aged in oak casks for an average age of 30 years. During their long maturation they become tawny in colour and concentrated in their aromas. This port has very intense and elegant flavours which combine to give a smooth, fine finish.

This 30-year-old tawny from Taylor's own vineyards shows incredible length a deep, old gold colour with hints of dried fruit and honey offsetting the rich nutty aromas. Lush, silky richness with an elegant, slightly austere quality which is quite distinctive. Subtle dried fruit flavours underly, exotic layers of caramel and nuts culminating in an endless finish.
Condition
Excellent condition. 375 ml bottle 20% vol. Includes free box (note std packaging is shown at checkout) Please note that "30 years" refers to the average age of the wine. The blender will use more than one vintage to maintain the house style therefore the year does not appear on the bottle.
You might also be interested in: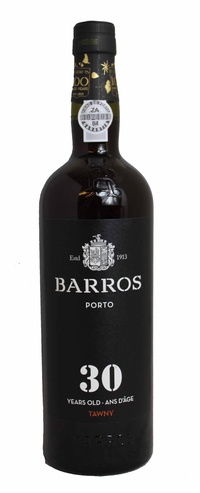 Barros Port, 1990
30 Year Old Tawny Port
The 30 year old Barros port is an absolute delight. It has a flavour of raisins, prunes, cherries a little cinnamon. …
$80.54 USD