Quinta de Vargellas Vintage Port -HALF BOTTLE 37.5 cl
Special Offer | Was £36.95 | Now £19
* excludes delivery (free standard UK delivery on orders over £100)
Description
The Taylor's 1996 Vargellas Vintage Port is a deep ruby, fading to brick on the rim. Rich clean nose, with dense dark cherry and Victoria plum aromas. A round, velvety textured wine with fine plump fruit, power and grip. Surprisingly youthful and fresh still.

Very typical Taylor's style on the nose, rather reserved, spicy and stylish fruit. Gentle, and a lovely silkiness to at the start. Fine fruit, very stylish composition. Appropriate grip and texture. Lots of tannin evident on a second taste. This is rather good. From a Port Styles tasting. 16.5-17+/20 (Wine Doctor 2007).

The viticulutural season began with a very wet winter. January and February were colder than normal resulting in a late bud burst. Cool, wet conditions continued until just prior to flowering on 25th May.

Flowering took place in hot weather and, when combined with the large number of inflorescences at bud burst, resulted in the largest potential yields since 1900.

There was a considerable amount of rainfall in September which caused many people to start picking. However, strong winds and hot weather followed (between the 27-30th September), which dried out the bunches and allowed the grapes to ripen fully.

This was reflected in a marked improvement in all ports produced from 29th September onwards.

You might also be interested in: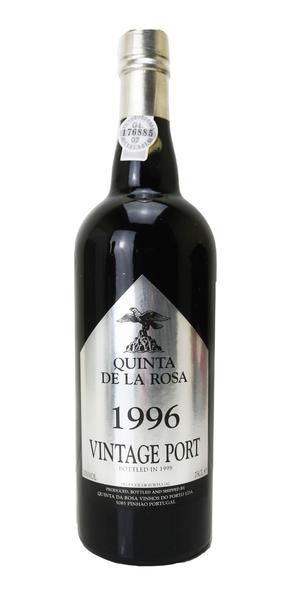 Quinta de la Rosa, 1996
Vintage Port
SpeciaL Offer | Was £89 | Now £60
La Rosa's classic house style achieved by slow maceration in traditional granite 'Lagares' has produced …
$82.17 USD

Quinta do Noval Nacional, 1996
Vintage Port
This wine is a mysterious phenomenon, a magical wine produced in extremely limited quantities and only …
$1,848.82 USD