1951 Wine and Port Vintage
Vintage Port: Not a declared vintage. A Colheita (barrel aged single harvest) Port is a good alternative for this vintage, and would be a lovely 68 year old wine gift for a birthday or anniversary celebration this year. 1951 Single Quinta ports may still be drinkable, but are in short supply.

Italian: A very good year for Italian heavyweights such as Brunello and Barolo, 1951 wines from Italy are rare and in short supply.

Bordeaux: Unfortunately, bad conditions led to a poor year for Bordeaux.


Buy with confidence
All of our wine gifts are available for immediate delivery from our own cellars. Your gift is backed up by our 5-star Trusted shops customer service rating.
Free standard UK delivery for orders over £100
Free tasting notes and personal message (add at the checkout)
Three month replacement guarantee
Choice of Gift Boxes
3 products found.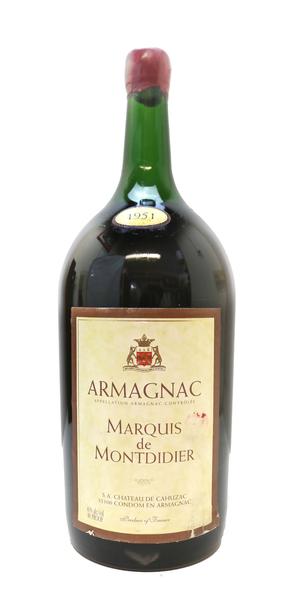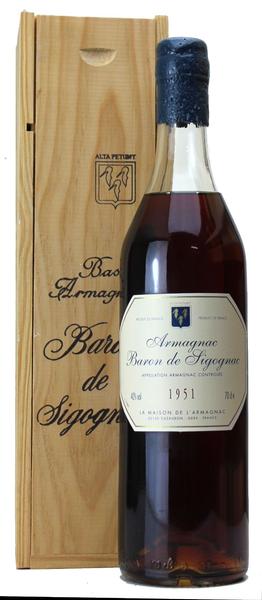 Baron de Sigognac, 1951
Vintage Armagnac (Comes in original Sigognac Box as illustrated).
Baron de Sigognac 1951 Vintage Armagnac has a beautiful amber colour with golden highlights. It has a rich and elegant nose of orange flowers, Aged prunes and cinnamon. The mouth opens to the superb perfumes of candied fruit, fat and strong with a lovely long finish of roasted almonds and wood.
more >>>
Price: $879.96 USD
Stock: 1 in Stock
Buy this item

Pacheca, 1951
Colheita Port
Bottled 2012

The best Ports can age many years in seasoned oak casks. This prolonged time in barrel ensures that the wines take on soft almond and walnut aromas, losing the intense red colour of its youth but gaining immense delicacy, richness and profound intensity.
more >>>
Price: $507.42 USD
Stock: 1 in Stock
Buy this item