Fladgate Vintage Port Presentation Case, 2017
Vintage Port Collection (3x75cl)
2017 Taylor's + 2017 Fonseca + 2017 croft in presentation box
IN BOND
En Primeur - Delivery Late 2019
Description
3 x 75 Cl Case Case Offered IN BOND


FOR DUTY PAID PRICES CLICK HERE

Presented in a bespoke wooden box, this 2017 Vintage Port collection contains three excellent wines from the highly esteemed vintage. Featuring Taylor; often the most intellectually satisfying of all of the Vintage Ports and one with the greatest ageing potential, Croft; whose wines of the 40s and 50s (1945 and 1955 for example) are the stuff of legend, as well as Fonseca; where violets, black tea and cassis dominate the aromas, followed by trademark sweetness and tannic elegance on the palate, this mixed case highlights the success of this recently declared vintage.



Condition
New release Terms and Conditions • Wine offered in bond (no duty or VAT) • Offer available until 26th June 2019 • We bond at LCB. Internal transfers are free, deliveries to other bonded warehouses will be subject to a delivery charge. • Should the wine be required with duty and VAT and collection from the shop then the prevailing rates will be added as well as a small delivery charge.
You might also be interested in: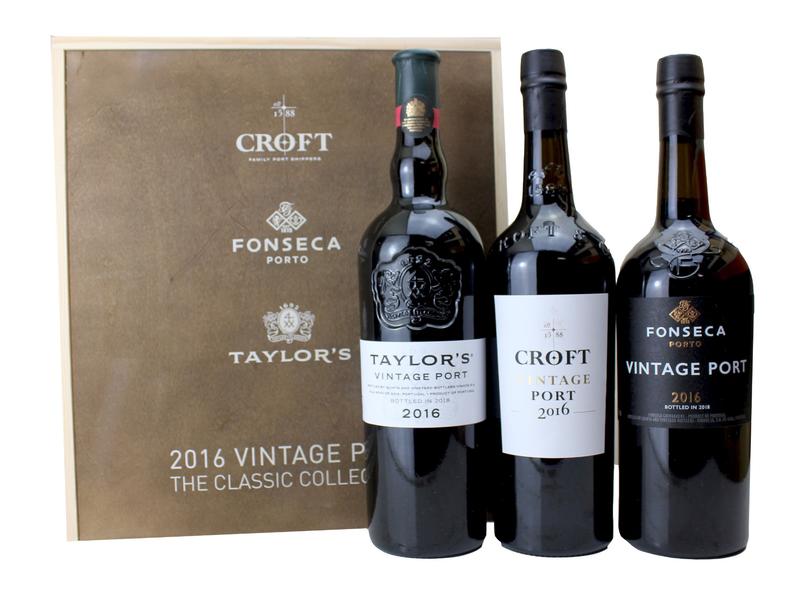 Fladgate Vintage Port Presentation Case, 2016
Vintage Port Collection
These 2016 Vintage Port Wines from Taylor's, Fonseca and Croft; three excellent wines from the highly esteemed 2016 vintage. …
$309.46 USD